BUILD promotes teen entrepreneurship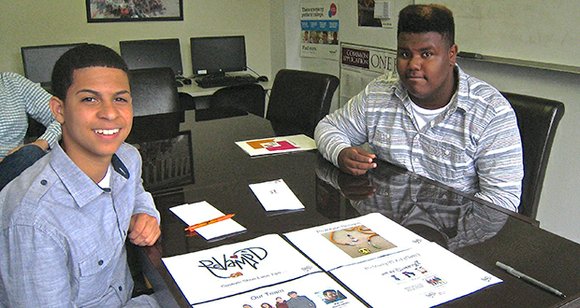 Anthony Nin of Roslindale and Angel Soto of Dorchester have good reason to feel confident as they reflect on the first year of their startup business, called ReVamp'D.
Their team, including partners Luis Galan and Yesenia Pilet, designed a product and made prototypes. They researched the market, created a logo, calculated costs and wrote a detailed business plan. Nin, Soto and Galan presented their facts and figures to an audience of 300 and a panel of judges and won first prize in a business plan competition. And this fall, in a downtown Boston office space, they'll work to refine and market their product — custom shoelace tips for sneakers — and maybe see a profit.
This would be mighty exciting for any entrepreneurs. But for this team it is even more heady, given that all this occurred during freshman year of high school.
These entrepreneurs attend the Community Academy of Science and Health (CASH) in Dorchester. CASH is one of four Boston high schools partnering with BUILD, a national nonprofit that aims to hook teens on the excitement of entrepreneurship and mentor them for both business and college success.
BUILD started in 1999 in the San Francisco Bay Area and launched its Boston site in 2011. The Boston program served 170 students this past year at CASH, Charlestown High School, Jeremiah E. Burke High School and Another Course to College.
Ninth-graders in the program attend an in-school entrepreneurship class and a weekly after-school session with volunteer mentors from the business and professional community. The students take on business roles and titles, like chief executive officer or vice president of marketing, based on their interests and strengths.
"I picked CEO because I know the product like the back of my hand," explained Nin. "It was my idea, and it's because of my interest in footwear. I also chose [Chief Financial Officer] because I'm really good at math, and very good at managing money, keeping track of loss and gain." Teammate Galan, who likes to draw, became vice president of manufacturing and design, Nin said.
The first year ends with the BUILD Youth Business Plan Competition. The ReVamp'D team won it this year, rising to the top in an all-day competition that started with 21 teams from the four Boston schools.
In their sophomore year, BUILD participants move on to product manufacturing and sales. Each year also brings greater emphasis on academic coaching, including tutoring, SAT prep and help with goal setting, college selection and financial aid applications.
On a steamy July afternoon, Nin and Soto, who is the team's chief operating officer, were at BUILD's Beacon Street office to speak with the Banner about their first year. (Galan was out of town, and Pilet, who was vice president of marketing and sales, has moved on to other pursuits.)
Soon, ReVamp'd will join other youth-run companies that have their own offices within this BUILD "incubator." Nin and Soto are still on a high after the competition victory and excited about coming to the incubator this fall.