Nelson Mandela's birthday celebration draws a large crowd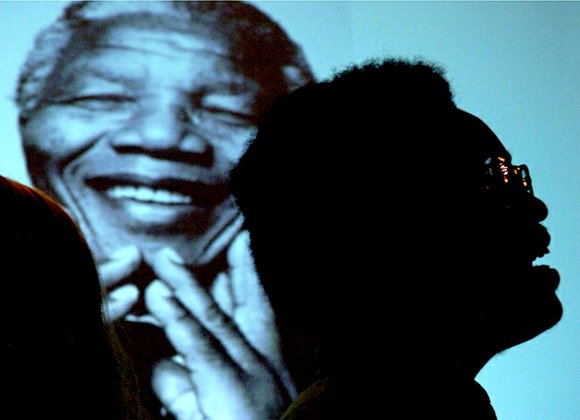 A diverse crowd of people stood on their feet, clapped their hands and swayed side-to-side as Berklee student Byron Noemdoe sang the Stevie Wonder rendition of Happy Birthday to Nelson Mandela, who turned 95 last Thursday.
The song, created and sung by Wonder to Mandela in 1988 to honor Mandela's 70th birthday, closed out the celebration that attracted a full house to Old South Church.
Noemdoe, a Cape Town native, said performing at the celebration provided a way for him to contribute to Mandela's dream and to bring people together through music.

"Even though we all dream of a society where we live in harmony and in peace with each other, performing gives me the opportunity to do something about that dream and to make it a reality," Noemdoe said. "It becomes tangible: the peace, the understanding and the harmony."
The event itself and its location in historic Boston an Old South Church "humbled" Noemdoe, he said.
Audience members had the chance to be a part of the celebration, participating in a sing-along of "O'Freedom" led by Linda Brown, "The Battle Hymn of the Republic" and "We Are Marching in the Light of God."
Between performances Gov. Deval Patrick and Mayor Thomas Menino gave remarks about Nelson Mandela and audiences members watched two short videos, a 15-minute video on Mandela's life and one on his visit to Boston in June 1990 after being released from prison.
Patrick spoke about Mandela's ability lead with love, a word seldom associated with being a leader, Patrick said. He called leadership with love the best kind of leadership and described Mandela as a perfect example of that.
"I'm very pleased to be here to celebrate 95 years of a person's example of leadership by love," Patrick said.
He backed up his opinion by quoting Mandela.
"No one is born to hate another person because of the color of his skin or his background or his religion. People must learn to hate and if they can learn to hate they can be taught to love, for love comes more naturally to the human heart than its opposite," Patrick quoted.
Menino reminisced about Mandela's visit to Boston in 1990, when 130,000 people crowded the Esplanade.
Menino credited Massachusetts for being a pioneer when it comes to progress in the U.S., but even with the progress, Menino said, Mandela's work is evidence of the strides that still need to be made across the world.
"Despite the progress, Nelson Mandela would be the first to remind us, our work is not done," Menino said.
The celebration also included a ceremony of candles led by state Rep. Byron Rushing in which six activists lit one candle each for different causes: children, remembrance of political prisoners, freedom to vote and freedom from oppression, workers who fought for equality in South Africa, those who paved the road for reconciliation and a commitment to the common good.
Vivian Johnson, whose husband Willard Johnson lit a candle during the ceremony, said the lighting is a way to shed light on progress made due to activism.