Arts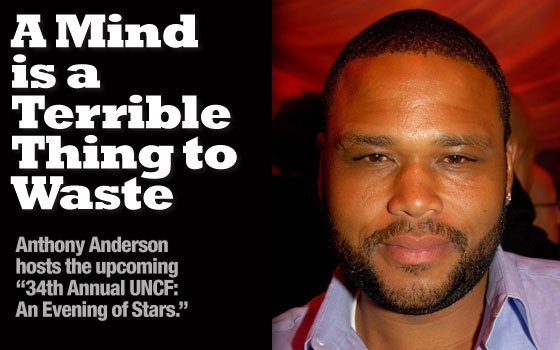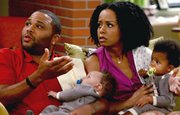 Anthony Anderson has appeared in over 20 films, and his stellar work on NBC's "Law and Order" earned him three of his eight NAACP Image Award nominations. Prior to launching his acting career, Anderson grew up in Los Angeles and attended the High School for the Performing Arts, where he earned first place in the NAACP's ACTSO Awards with his performance of a classic monologue from "The Great White Hope." That performance, along with his dedication to his craft, earned him an arts scholarship to Howard University.
He first gained national attention as one of Jim Carrey's sons in "Me, Myself, and Irene." Over the years, Anthony has displayed his range of talent in everything from "Transformers" to Martin Scorsese's Oscar-winning feature film, "The Departed."
Anderson brought his talent and humor to the small screen as well in his own sitcom, "All About The Andersons," which was loosely based on his life. He appeared in the police-drama television series, "The Shield" opposite Michael Chiklis and Glenn Close, and starred in the New Orleans-based drama "K-Ville."
Anderson lives in Los Angeles with his wife, Alvina, and their two children. Here he talks about hosting the United Negro College Fund's 34th Annual "An Evening of Stars."
What interested you in hosting the Evening of Stars?
You know what, they reached out to me to host, and I couldn't turn them down. I'd grown up watching the show with my parents every year back when it was hosted by Lou Rawls. We didn't have much money at all, but my folks always found a way to give a little. And now, here I am 30 years later with a $25,000 United Negro College Fund scholarship in my name. That's something that interested me as well.
Will that scholarship specifically go to a student at your alma mater, Howard University?
No, I didn't want them to think I was biased, even though I am. I haven't figured out whether we're going to give it all to a single student, or break it off and give it to five different students.
What did attending Howard University mean to you?
It meant everything. This is the sort of creative energy you could find on campus when I was a student there: Paula Jai Parker, Wendy Raquel Robinson, Wendy Davis, Carl Anthony Payne, Sean "Diddy" Combs, Ananda Lewis, Laz Alonso, Lance Gross, the music group Shai, and the list goes on and on. We were all there at the same time. For all of us then to go off in our respective fields independently of one another and become successes can't even be quantified.
What are the major challenges facing the Historically Black Colleges and Universities today? Is there any truth to the rumor that they are having a hard time finding black male students?
I would assume so, and I say that because only about 5 percent of African Americans who graduate from high school are college- ready. And only 28 percent of that 5 percent eventually graduate from college with a bachelor's degree. You asked specifically about African American males. When I was in college, the ratio was 7 females for every male on campus. So, that's been the case for a long time, but I don't know what the reason is for that drastic difference.