Obama invokes legacies of King, Lincoln at 2nd inauguration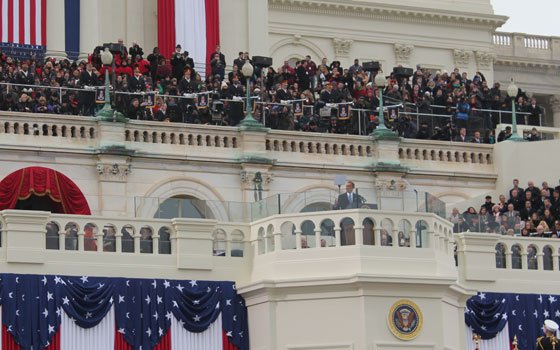 In a rousing speech marking the beginning of his second term, President Barack Obama urged Americans: "Let us answer the call of history."
History was steeped in Monday's inauguration festivities. Obama's swearing-in ceremony fell on Martin Luther King, Jr. Day, and the start of his next four years in office also coincides with the 50th anniversary of the March on Washington and the 150th anniversary of the Emancipation Proclamation.
Obama marked these occasions by using two Bibles to take the oath of office — one that belonged to Abraham Lincoln and another that belonged to Martin Luther King, Jr. — and also by making equality the central theme of his inaugural address.
Calling the notion that all humans are created equal "the star that guides us still," Obama recalled those who marched on the National Mall five decades ago "to hear a preacher say that we cannot walk alone, to hear a King proclaim that our individual freedom is inextricably bound to the freedom of every soul on earth."
"Today we continue a never-ending journey to bridge the meaning of those words with the realities of our time," he said. "For history tells us that while these truths may be self-evident, they've never been self-executing."
While invoking the legacies of Lincoln and King — who made history fighting for racial equality — Obama spoke of equality for other groups as well, including women, gay Americans and immigrants.
"Our journey is not complete until our wives, our mothers and daughters can earn a living equal to their efforts," he said. "Our journey is not complete until our gay brothers and sisters are treated like anyone else under the law, for if we are truly created equal, then surely the love we commit to one another must be equal as well."
The president also used the speech to outline the issues on top of his agenda for the next term — progressive causes such as climate change, poverty, immigration reform, gay marriage, women's rights, infrastructure, Medicare, Medicaid and Social Security. And unlike the beginning of his presidency, when he stressed the importance of bi-partisanship, Obama directed criticism at Congress and its unwillingness to work with him.
"Progress does not compel us to settle centuries-long debates about the role of government for all time, but it does require us to act in our time," he said. "We cannot mistake absolutism for principle or substitute spectacle for politics, or treat name-calling as reasoned debate."
Boston City Councillor At-Large Felix Arroyo attended the inauguration and noticed that in contrast to his first inaugural address, Obama seemed "a lot bolder."
"I felt like he had a very clear idea of what he wants his last four years as president to be like," Arroyo said. "I had the sense that he was saying, 'I'm not going to let Congress bog me down, I'm not going to let people who don't want to move forward allow the country to not move forward.'"
Rev. Miniard Culpepper of Dorchester's Pleasant Hill Baptist Church was also in attendance on Monday, and liked what he heard.