From Boston to the Bayou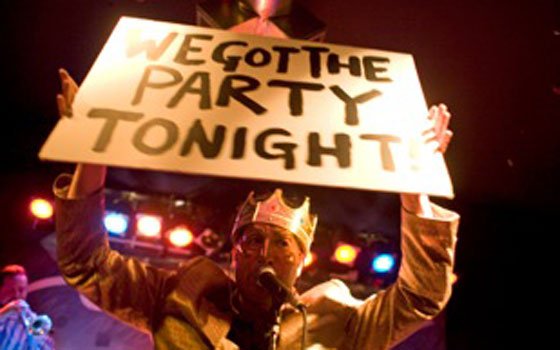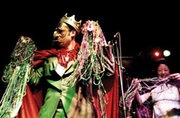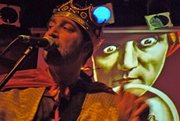 Two-night Mardi Gras Ball benefit concert features party atmosphere, top-shelf local talent

Revelers rejoice at a recent Mardi Gras Ball. 
The New Orleans party spirit is alive and well at the annual bacchanal known as "Wolf's Mardi Gras Ball."  
This year, to mark its 20th anniversary, the Ball will double in size, offering a double dose of Delta dancing as it turns Cambridge's Central Square into Boston's slightly milder version of New Orleans' Congo Square on Feb. 8 and 9 at TT the Bear's.
Ball founder Shaun Wolf Wortis said the idea was one of the many experimental "theme" shows conceived with his old band, Slide.
"We had been to New Orleans both on tour and as a pilgrimage, and thought that it'd be fun to play some old NOLA RandB at a show and see if anyone would show up in masks," he said.
Not only did people show up, but some have been coming back year after year to keep the show and the spirit of New Orleans going strong.
Thanks to the critical mass of Massachusetts-based talent, the Ball has long been one of the top nights on the Boston-area musical and social calendar.
"Musicians in Boston seem to love to get involved," Wortis said. "The hardest thing is just trying to keep up with who is on the scene."
Though he and the show are both physically based in Cambridge, Wortis' heart is deep in Dixie and he makes regular pilgrimages to find the deepest and Delta-est musical cuts and costumes to fuel his annual fest.
"I've got a pretty massive collection of New Orleans music," Wortis explains, "and I love to pore through it to find the 'perfect' matches for guest singers."
Thus, regulars of Wolf's Balls could be the only folks outside of the Crescent City to be familiar with Oliver Morgan's "Who Shot the La La," the Pelicans' "Drunk Drunk Drunk" and the many other N'awlins nuggets that Wortis offers them.
"New Orleans RandB is unpretentious, ragged, irreverent, sexy, [and] funky," Wortis said. "Once they hear the music, they're hooked." 
The musical attraction is so strong that many Ball guests come back year after year, often bringing their own songs and sounds and creativity to the musical gumbo.
"Shaun first asked me to do the Mardi Gras Ball in 2006," recalls Jen D'Angora of Jenny Dee and the Deelinquents (among other bands). Though she did not know Wortis well at the time, she could sense his love for music and his love for his fellow musician.
"Shaun is a great guy, even greater musician, and what an awesome person to boot," D'Angora says. "He's always thinking of the other guy (or gal), and he's one of my favorite guys to sing with."
Though the Ball features some of the most talented musicians and artists around, Wortis gives praise to his "house band."
"My band is incredibly dedicated," he says. "Paul Ahlstrand has played in over 20 Mardi Gras Balls and Bastille Day A-Go-Gos. Chandler Travis has been in 19 of these. Ducky Carlisle [has done] 25, and, of course, the guys in Slide … have been in dozens each."