Arts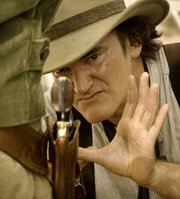 With a vibrant imagination and dedication to rich, layered storytelling, Quentin Tarantino has established himself as one of the most celebrated filmmakers of his generation. His World War II epic, "Inglorious Basterds," was nominated for eight Academy Awards and landed an Oscar for Christoph Waltz for his portrayal of Colonel Hans Landa.
Prior to "Inglorious Basterds," Tarantino thrilled audiences with "Death Proof" starring Kurt Russell and Zoë Bell. In "Kill Bill Vol. 1″ and "Kill Bill Vol. 2," Uma Thurman as "The Bride" enacted a "roaring rampage of revenge" on her former lover and boss, played by David Carradine.
Tarantino wrote and directed "Jackie Brown," a crime caper starring Pam Grier in the title role. Loosely based on Elmore Leonard's novel Rum Punch, the picture netted Robert Forster an Academy Award nomination for Best Supporting Actor.
Tarantino co-wrote, directed and starred in "Pulp Fiction," which won an Academy Award for Best Screenplay. He wrote, directed and starred in "Reservoir Dogs," which marked the beginning of his career and made an auspicious debut at the Sundance Film Festival.
Here, he talks about his new movie, "Django Unchained," a Western featuring Jamie Foxx in the title role as a slave-turned-bounty hunter, and co-starring Christoph Waltz, Samuel L. Jackson, Leonardo DiCaprio and Kerry Washington.
How did you come up with the characters Django and Dr. Schultz [played by Christoph Waltz] and how did you dream up their relationship?
As for the scriptwriting process, it was kind of funny. I always knew I wanted to do a Western. And trying to think of what that would be, I always figured that if I did a Western, it would have a lot of the aesthetics of Spaghetti Westerns, because I really like them. They're really brutal and operatic with a surreal quality to the violence.
So about eight years ago I came up with the idea of a black man who was an ex-slave who had become a bounty hunter. And his job would be to track down white outlaws who were hiding out as overseers on Southern plantations. Now, that's not a story; that's just an idea. That was kicking around in the incubator for about eight years, waiting for its time.
At the same time, I was writing a film criticism book on Sergio Corbucci, the director who did the original "Django." So, I was kind of getting immersed in his world. Toward the end of the "Inglourious Basterds" press tour I was in Japan. Spaghetti Westerns are really popular there, so I picked up a bunch of soundtracks and spent my day off listening to all these scores. And all of a sudden the opening scene just came to me.
It just came to me, and I knew I had to sit down and write it, even though I didn't even have my notepad with me. So, I was just writing it on the hotel stationery.
What was the most challenging aspect of writing the script? Did you feel any pressure to conform to political-correctness, or did you feel free to take poetic license?