Jubilee concert celebrates 150 years of freedom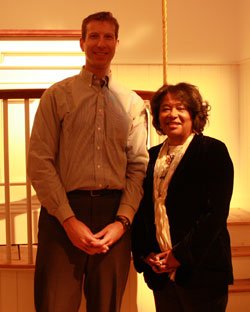 Beverly Morgan-Welch, Executive Director of the Museum of African American History and Ira Pedlikin, Director of Artistic Planning for Handel and Haydn Society, bask in the glow of a successful collaboration to present the 150 th Anniversary First Night Jubilee Concert at the Museum's historic African Meeting House on Beacon Hill. More than 300 people came out on New Year's Eve to enjoy the music and to commemorate the Sesquicentennial of the Emancipation Proclamation, the Presidential Order signed by Abraham Lincoln on January 1, 1863 to liberate men, women and children enslaved in those states in rebellion during the Civil War. (Photo courtesy of the Museum of African American History)
Far removed from the roaring First Night crowds at Hynes Convention Center — the central location for the nation's largest and oldest New Year's festival — songs of celebration and cheers bursted through the halls of the Boston African American Meeting House.
The cause for this celebration dates back to Jan. 1, 1863, when President Abraham Lincoln signed the Emancipation Proclamation, declaring all slaves in the rebellious states "shall be then, thenceforward and forever free."
From that day forth, Jan. 1 was officially named Jubilee Day, and the First Night Jubilee Concert held at the African American Meeting House during this year's First Night Festival commemorated the sesquicentennial of the document's signing. 
The Meeting House, once a hub for the anti-slavery movement, was host to an intimate gathering that featured a narration of the events that unfolded 150 years prior, accompanied by musical performances from the Handel and Haydn Society and local Boston artist Gordon Michaels.      
Read by Beverly Morgan-Welch, executive director of the Museum of African American History, the narrative told an emotional story, sweeping the audience back to the First Jubilee Day and the anticipation, hard work and heartbreak that preceded it.
It was on that first Jubilee Day that a crowd of 6,000 gathered at the Boston Music Hall and Tremont Temple in anticipation of the news that the monumental document was signed. Abolitionist leaders such as Anna Dickinson, Frederick Douglass and William Lloyd Garrison and authors Harriet Beecher Stowe and Ralph Waldo Emerson were present as well.
"This is 1863," stated Welch. "A crowd of 6,000 doesn't just show up with little to no organization or commitment. Boston was a leader in the anti-slavery movement and this day was huge for thousands. Today marks a special day as Boston once again celebrates Jubilee Day."