Boston residents bring Wally's jazz flavor to Florida gallery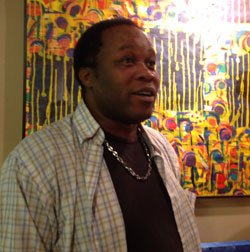 STUART, Fla. — An interracial pair of Boston residents has transplanted a bit of the jazz and entertainment tradition of the vintage Wally's Café to Florida — and added a lot of art.
Since opening four years ago, Osceola32 Gallery in the coastal town of Stuart in south Florida has exhibited an eclectic and expansive array of multicultural art. Launching the gallery amid the recession was the bold initiative of Rachel Goldberg, a commercial real estate broker, and co-owner Michael Penn, a grandson of Wally's founder Joseph L. Walcott whose diverse talents range from nursing and linguistics to fashion and art.
Goldberg, whose real estate business is based in the South End, had been visiting her father in Stuart for almost four decades. She and Penn currently split their time between Boston and the town of 16,000.
"Our choice either was to sit around and say there's no culture or bring it," Goldberg explained.
The cultural enterprise has entailed more than art. On First Thursday art walks and evening opening receptions, jazz reverberates inside the downtown gallery, which is also licensed to serve wine.
"That's why I wanted to do jazz here — to honor my grandfather," Penn said.
It's good business too: Marketing studies have found considerable overlap between jazz and art lovers.
The long-germinating seed for the gallery was actually planted in Wally's, the South End jazz landmark. Penn was a teenager working in the family business, and Goldberg was a neighborhood resident who frequented the club when they met in the 1970s. She was already acquainted with his sister, Elynor Walcott, who now runs Wally's with sons Paul, Frank and Lloyd Pointdexter.
In the decades between that meeting and their gallery's founding, Penn would live for years as a fashion designer in Germany and travel the world as a military intelligence analyst, and Goldberg would build her real estate business in Boston and get acquainted with Stuart during family visits.
The gallery's aesthetic inspiration is more New York than Boston — "a bit of SoHo," the co-owners bill it. The focus is on contemporary art with an international, cross-cultural flavor.
The current show, "Diversity and Divinity," features about 30 artists from Jamaica, Colombia, Chile, Russia, Poland, Denmark and other countries besides the United States.
The narrow, rectangular gallery is packed with bursts of bright colors, including a central row of paintings on easels and metal grid walls. Penn has two abstract paintings; one is "Dancing Drums," with the percussion instruments floating unmoored by stands. Goldberg offers several digital photo collages with dreamily soft, spiritual images. Valerie Bloomfield-Ambrose, a former instructor at the Jamaica School of Art who has moved to Stuart, has on exhibit a disconsolate nude black woman peering out an open window while seated on an unmade bed.
Displayed in a side window, another painting, this one by Russian refugee Helen Kagan, harkens back up coast to Wally's and kindred clubs. Swirling images of a keyboard, saxophone and bass illuminated by city lights suggests a night jazz scene.