A grassroots strategy to win state elections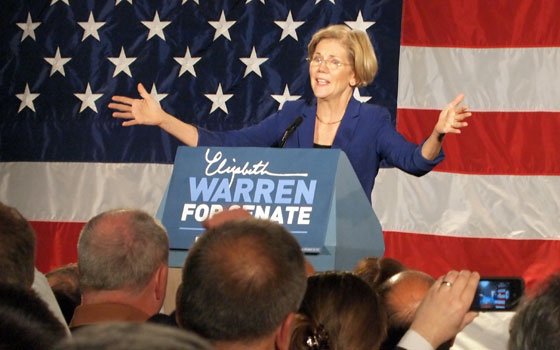 Elizabeth Warren was an unlikely candidate. The Harvard law professor shunned the glitz and glamour of modern-day politics and still handily beat Scott Brown, the sitting U.S. Senator that was the GOP's idea of glitz and glamour.
She won the seat the old-fashioned way — hard work. She knocked on doors across the state and shook hands and took photographs and debated issues that Brown was either too busy or too comfortable to engage this time around.
If there's one clear message to be learned from her 2012 campaign, it's that all roads lead through Roxbury.
For Warren, Boston's black community represented one of her strongest voting constituencies, and one of Brown's worst. In the 2010 special election where Brown won the U.S. Senate seat left vacant by the death of Ten Kennedy, he lost Roxbury's Ward 12, gaining just 2 percent of the vote. And in Dorchester's Ward 14 — the geographical center of the city's black community — Brown barely garnered 1 percent of the vote.
While Brown had visited parts of Dorchester in the last year — including a photo op shooting hoops at a Boys and Girls Club and an obligatory visit to the Eire Pub — he made few, if any, campaign stops in the city's black and Latino communities.
And his last-minute, half-hearted attempt to pay for a few billboards in Grove Hall and employ a handful of blacks — at $50 a day — to walk around with placards reading "Obama supporters for Brown" were simply embarrassing and ignored the changing demographics.
Brown's decision to skip a candidates forum at Roxbury Community College during the campaign may well have been the result of a scheduling conflict. But that decision hurt his ability to attract potential voters — even though it was not his crowd. Warren received a standing ovation from the audience — and that was before she even sat down.
But the campaign was about more than just showing up. Warren's message on economic justice was on point. Her willingness to discuss predatory lending practices by major U.S. banks and their effects on the black middle class provided a stark contrast to Brown's campaign messaging, which largely centered around Warren's claims of Native American heritage and his allegation that she played it to her advantage in securing jobs.
Unlike state District Attorney Martha Coakley, who lost to Brown in 2010 in part due to her inability to press the flesh, Warren built an excellent ground game.
Warren had 48 field offices, 74 paid field organizers and about 24,000 volunteers working for them on Election Day. That amounted to an average of about 10 in each of the state's 2,174 precincts to get her supporters to the polls. In the days before the election, those campaign workers knocked on an estimated one million doors and made two million phone calls.
As the election neared, in one day alone, they made more than 370,000 phone calls and knocked on more than 123,000 doors.
"The ground game is the only thing that matters in the end," said John Walsh, chairman of the state Democratic Party.