Biography dispels myths about legend of Rosa Parks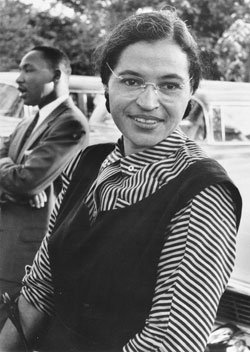 Rosa Parks, who would have turned 100 this month, is certainly one of the most celebrated figures in black history.
While everyone knows the story of how she stood up to segregation by refusing to give up her seat on a bus to a white passenger, Jeanne Theoharis, a political science professor at Brooklyn College, says that few appreciate — or even know about — the fullness of Parks' activism throughout her 92-year life.
Theoharis argues that the legend of Parks as a quiet and apolitical seamstress has eclipsed the reality of Parks' relentless dedication to the Civil Rights Movement, and the tremendous suffering she endured as a result. So to correct decades of mythologizing, Theoharis has authored the first-ever comprehensive biography of Parks, The Rebellious Life of Mrs. Rosa Parks.
Parks was born in Tuskegee, Ala. in 1913, into an environment of acute racial violence. Her grandfather, born into slavery, was a supporter of the pan-Africanist Marcus Garvey, and frequently sat outside the house at night with his rifle to ward off the KKK. Parks often joined him.
Parks' first real encounter with activism, however, occurred as a teenager when she met Raymond Parks, the man who would become her husband. When the two met, Raymond, a longtime member of the NAACP, was organizing on behalf of the Scottsboro Boys, the famous case of nine black youth who were wrongfully convicted and sentenced to death for the rape of two white women.
It took several years for Parks herself to join the NAACP — she had thought it was only open to men — but during her first meeting, she was elected secretary of the Montgomery branch.
In the early 1940s, she organized to get black people registered to vote, and managed to get herself registered despite numerous poll tests and taxes. She cast her first ballot in the 1945 Alabama gubernatorial race, making her one of the few African Americans at the time to have done so.
As Parks' prominence grew, she took on leadership roles with the NAACP at the state level — where she pushed for anti-lynching legislation and documented violence against black people in the South — and co-founded the NAACP Youth Council.
In the years leading up to Parks' 1955 arrest, Montgomery buses were the scene of a number of altercations between black passengers and white drivers. Parks herself had been kicked off several buses for refusing to re-board in the back after paying in the front. But tensions heated up early in 1955, when 15-year-old Claudette Colvin refused to give up her seat for a white woman, and was arrested and dragged off the bus by police.
Nine months later, Parks took the same stand. These acts of resistance were dangerous, Theoharis points out. "Even though we always say that Parks is so courageous, sometimes we don't pay attention to how courageous it was," she says.
Bus drivers carried guns, and armed police officers weren't afraid to shoot black passengers. Parks' neighbor — a World War II veteran — had been killed for refusing to board in the back, and as Parks later said about her own resistance: "I didn't even know if I would get off the bus alive."