New sheriff in town: A talk with Steven Tompkins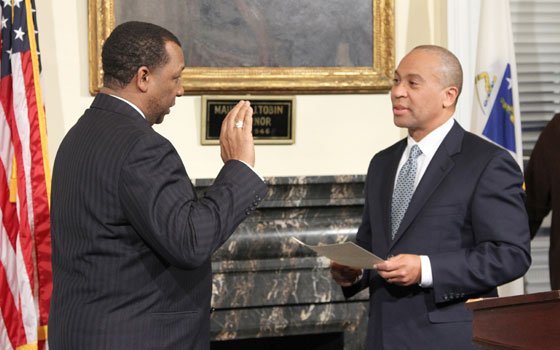 Gov. Deval Patrick recently appointed Suffolk County Sheriff's Department of External Affairs Chief Steven Tompkins as Suffolk County Sheriff. Tompkins will assume responsibility for all Sheriff's Office operations at the Suffolk County House of Correction, the Nashua Street Jail and the Civil Process Division.
In addition to providing care, custody and rehabilitative support for inmates and pre-trial detainees, Tompkins will also oversee a management, security and administrative staff of over 1,000.
"As a dedicated public servant on the frontlines of crime prevention and reentry rehabilitation, Steven brings first-hand knowledge and passion to this critical position," Gov. Patrick said in a statement announcing Tompkins' appointment. "I am confident in his ability to serve Suffolk County in this role and I look forward to working with him to strengthen our re-entry programs and reduce youth violence."
Sheriff Tompkins discussed his appointment with the Banner and how his career experience will aid in his leadership of the Department.  
You displayed a great deal of emotion at your swearing-in ceremony. What was that all about?
First of all, I didn't realize that I had gotten that animated until I saw the pictures in the papers the next day. But, to your question, our mandate at the Department is care and custody of the inmate and pre-trail detainee population.
That said, I am passionate about the work that we do for several reasons. We work collaboratively with a variety of law enforcement and social service agencies to: one, safeguard the citizens of Suffolk County; two, educate youth about the loss of liberties once sentenced to jail; and three, we attempt to redirect individuals away from a life in crime.
As someone who grew up in a challenged environment and caught a couple of fortunate breaks, I am honored and humbled by the opportunity to help others improve their station in life; that includes the employees as well as the inmates. How could I not be psyched about that.
What can the public expect from the Tompkins Administration?
The public will see a continuation of the solid care, custody and control of the inmate and pre-trial detainee population, which is our charge. Frankly, following that, I will lend my time, energy and resources to several things.
First, working with youngsters to keep them out of the system.
Second, when I was Chief of External Affairs, my division was very involved with re-entry, or how ex-offenders are reintegrated into their communities. I know that Mayor Menino and Governor Patrick are working on this issue and I look forward to discussing ways in which collaboration would be possible.
Third, I am very concerned about the scarcity of detox and mental health beds and the plight of those individuals that age out of the foster care system. Far too often, in both incidences, the care that these folks need is unavailable, and if the Department can be of assistance on either front I'm all for it.     
Your appointment has been questioned as being political in nature. How do you respond to that criticism?