Young & Restless: Angell Conwell chats about her movie career, daytime soap acting
Kam Williams | 12/24/2013, 6 a.m.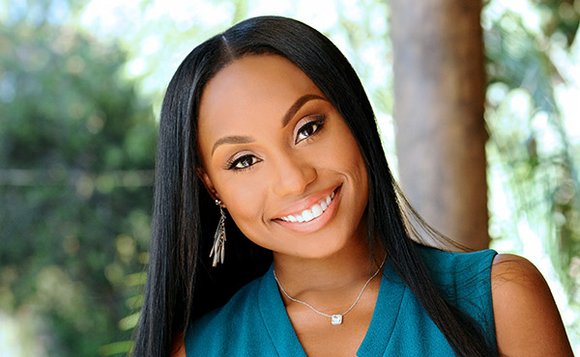 Angell Conwell was born in Orangeburg, S.C., on Aug. 2, 1983, but raised in nearby Columbia. At 17, she made her big screen debut in the gritty, John Singleton drama "Baby Boy" opposite Tyrese, Taraji P. Henson and Snoop Dogg.
She followed that outing with well-received supporting roles in such feature films as "The Wash," "Soul Plane" and "24 Hour Love." More recently, Conwell enjoyed a starring role on the TV-One hit series "Family Time" with Omar Gooding, as well as a recurring role as Kevin Hart's ex-wife on the hit BET series "Real Husbands of Hollywood."
Her TV credits include guest starring roles on such shows as "NYPD Blue," "Sabrina the Teenage Witch," "Moesha," "That's So Raven" and "3rd Rock from the Sun." She has also appeared in the music videos "Batter Up" and "Ride Wit Me" and Usher's "Confessions."
In her spare time she enjoys reading inspirational books, days at the beach, walks with her dog, Xeena, and giving back by helping to serve at MyFriendsHouseLA.com. She spoke with The Banner about her upcoming independent movie "4Play" with Wesley Jonathan, and about playing Leslie Michaelson on the daytime drama "The Young & the Restless," which just celebrated its 40th anniversary on the air.
What interested you in doing a soap opera?
Being on a daytime drama never crossed my mind until the breakdown for the character "Leslie" was released. She was described as a strong, spitfire legal shark. It's rare that an opportunity comes to play such a character, and being that "The Young & The Restless" is not only the No. 1 daytime drama overall, it's also the No. 1 daytime drama within my family — they've all been watching since before I was born. After considering all these things, it made complete sense.
Tell me a little about your character, Leslie Michaelson.
Leslie Michaelson is an attorney. She has a passion for what she does. She's a stand-up woman who has been through many terrifying situations in life, but has turned them to her advantage. She loves her younger brother, Tyler [played by Redaric Williams], with all of her heart, and she stands by her man, Neil [played by Kristoff St. John], without being smothering. She's quite a lady!
How did you prepare to play a lawyer?
As far as the legal lingo, I googled most of the terminology and started to try to use it on a daily basis so that it would begin to sound normal coming out of my mouth. It's not every day talk for me, so I had to get used to that. Once I learn the material, it's mainly all about helping to give Leslie some spice and life. The writers put it all on the paper. My job is to bring it.
Are there any upcoming developments you can share about Leslie and her love interest, Neil?
Plenty of Neil and Leslie's relationship has revolved around Gus [Leslie's father], Rose [dead woman from Gus' past], a mysterious blogger, and figuring out the different connections. So, I'm hoping that we may get to see another dynamic to their relationship soon. Maybe more romance and passion, but honestly, I have no idea.