Annual art exhibit unites Boston South End neighborhood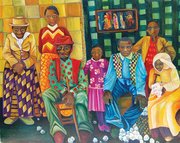 United South End Settlements aims to bring together South End artists, reflect diversity and increase access to art in the neighborhood with its fifth annual Community Colors exhibit.
The exhibit is being displayed at the Harriet Tubman House on Columbus Avenue until Jan. 3.
According to Chelsea Revelle, USES's director of arts and culture, the exhibit features about 40 pieces from a diverse group of artists ranging from the children in the organization's early childhood program to more experienced artists.
"We have some artists who have worked in the Museum of Fine Arts and then we have 2-year-olds doing mosaics, so it's really a diverse range of ability and material and medium, and then it's in a space that's very community oriented, so all sorts of people who walk through our building can appreciate it," Revelle said.
USES is a community organization that offers a variety of services to the South End including early childhood education, after school programs, summer programs, art programs, workforce readiness programs and senior services.
Displaying the work in the Harriet Tubman House allows individuals who would not typically visit an art gallery to have exposure to art, Revelle said.
One of the pieces in the gallery is a painting by Marilyn Jan Casey that shows Harriet Tubman and six slaves whom she helped to become free.
Casey recreated and enlarged the image, which originally appeared in an African American history book.
The opportunity to have that particular piece displayed in the Harriet Tubman House meant a great deal to Casey, who called Tubman her mentor.
"I think it's an honor to have my Harriet Tubman at the Harriet Tubman House because of the name of it and because I think they're doing really good with the local artists around the community," Casey said.
Another piece being featured shows an image that many Boston residents are familiar with.
USES's MFA liaison, Jeremiah Stevenson, took a photo of the intersection at Tremont Street and Massachusetts Avenue and recreated it as a larger painting.
Stevenson, who has been working with more abstract pieces, said creating the street scene allowed him a break from his routine.
As Stevenson created the piece, he connected with a artwork displayed at the MFA called "Tire Jumping in Front of My Window," by Allan Crite in 1947.
"I love the architecture of the buildings and the color of the buildings," Stevenson said. "The different shapes in the South End are just beautiful I believe."
Stevenson said he appreciates the opportunity to participate in a community-oriented exhibit.
"I'm happy that I'm able to be a part of it and participate," Stevenson said. "It has different meaning for me because I work with USES, so it's great that I can contribute to an art show like this, and it's something that I need to do more of."
USES President Kevin Hepner started the Community Colors exhibit as a way to allow its staff members and participants to display some of their work and reconnect with South End residents who were impacted by USES in their past.
Hepner said one of the most exciting parts of this particular exhibit is that it allows him to get to know a different side of some of the people he works with and interacts with daily.
"It's just really exciting to see staff that you don't think of as artists, because they do things very different, to suddenly show up with a piece of artwork," Hepner said. "One year, we had art that was contributed from one of our maintenance workers, and that was just very wonderful to see."