Boston's 'Black Nativity' four-decade run is a holiday treasure
Kevin C. Peterson | 12/18/2013, 11:40 a.m.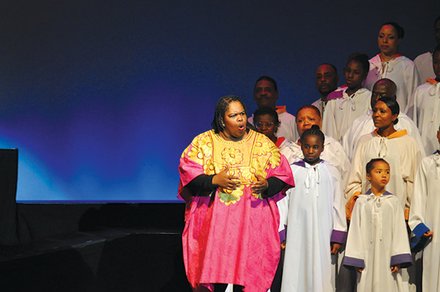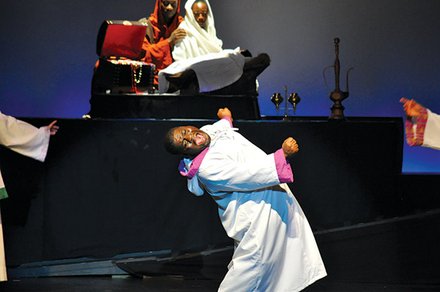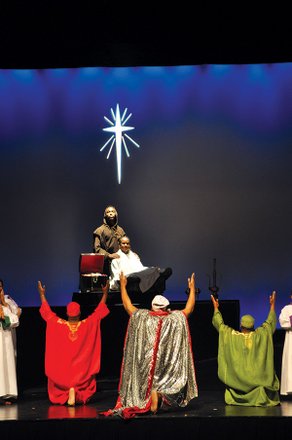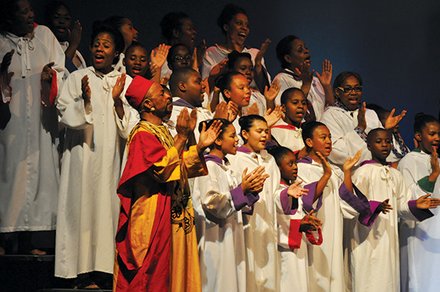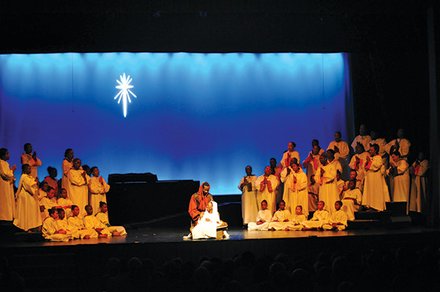 "Black Nativity," Langston Hughes' 1961 musical and theatrical treatment about the birth of Jesus Christ, is an American masterpiece.
Under the able direction of Emerson A. Kington, the gospel song play is currently being performed at the highest level possible with every big and bit role executed with all the precision and effort that Elma Lewis — a long-timed doyenne of this city's cultural front, who brought this work to Boston — would have demanded and expected.
"Black Nativity" has become a holiday staple in Boston.

This year marks its 43rd season, which concludes its run this weekend at Northeastern's Blackman Auditorium, where tickets remain available for matinee and evening performances.
"It is the longest running version of the play in the country. Its unique mix of song arrangements and theatrical performances makes the Boston version different and better than other versions performed in other cities," said Kington.

Hughes, one of the giants of American poetry and a bright light of the Harlem Renaissance literary movement of the 1920s, intended to give the story of Advent a decidedly African-American focus. His telling of the coming of Jesus is wrapped in the songs, rhythmic styling and the tonal characteristics created largely by American blacks during the post-slavery era.

"Black Nativity" uses the blues, vaudeville melodies, the use of call-and-response and the sound of the mid-20th century northern black church to infuse the heralding of Christ with cultural richness and celebration. The play was composed as much for its religious significance as for its profile of certain nuanced aspects of the African-American musical tradition.
The 90-minute concert opens with a moving rendition of "Go Tell It on the Mountain," a negro spiritual composed by John Wesley Work in the 1860s. As the ensemble progresses into the darkened auditorium with lit candles, the audience is affected with an evoked sense of solemnity and reverence, the first of many emotional stagings that gives this performance its accomplished and substantive feel.
"My Way is Cloudy," "No Room" and "O Come All Ye Faithful," make up the 20 songs performed by the 45-member choir — all from the local area, including former Roxbury District Court Chief Justice Milton Wright whose lead in "A Mighty Day," is a show of his charisma and finely nurtured baritone voice.
Mary and Joseph, the parents of Jesus, are serenely performed by McKersin Previlus and Desiree Springer. The music is coordinated flawlessly and performed with sustained and moving emotion by brothers Stephan Hunter Sr. and David Hunter on the organ and piano respectively.
Individual solos in the play are heartily delivered and performed with enormous dexterity and melodic confidence — giving proof to the generous rewards that can come from years of crafting raw talent into refined artistic skill.
Among the singers who are especially luminous in this production is Ashley Villard, whose ease, clear voice and stage poise makes her delivery in "Rise Up Shepard and Follow," precociously knowing and brimming.
Jermaine Tullock in "What Child is This?" and "A Mighty Day," displays his nous for lyrical interpretation and his gifted abilities to sing along an impressive range of the musical scale — from bass to tenor to a lilting falsetto soprano.
Kington, a protégé of Lewis' dating back to the 1980s, relies on simple — almost bare staging, using light and projected images as his way of controlling mood and making dramatic statements.
"Black Nativity" was first performed by the National Center of Afro-America Artists in 1969, a year after Hughes' death. Lewis, who founded the NCAAA, directed the play for more than 30 years until her death in 2004, followed later by John A. Ross and Voncille Ross.
Kington and his magnificent cast tell this story with extraordinary warmth and genuine uplift. They are testament to the fine work that continues at the NCAAA, expertly led by Edmund Barry Gaither.
The Boston performance of the play matches the stunning work of Hughes and pays homage to Lewis, the visionary woman who brought this treasure to town.