Management firm United Housing Management improves housing, lives in Grove Hall
Yawu Miller | 12/11/2013, 11:33 a.m.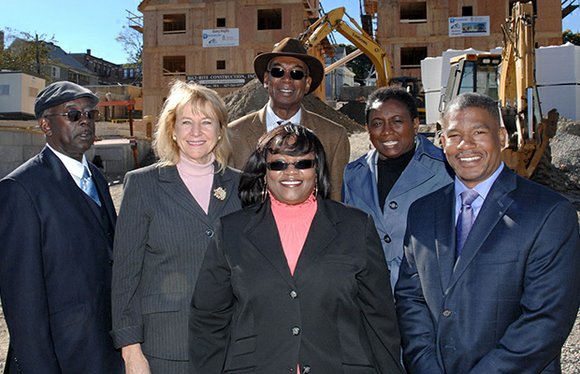 Ten years ago, Otis Gates and John Strodder bought a piece of Longbay Management's portfolio, taking over management contracts for 721 units of housing in Roxbury and Dorchester and hiring 31 employees to manage and administer services.
Now, with twice as many employees and nearly three times the number of units, United Housing Management has become one of the largest black-owned businesses in Boston, collecting $23 million in rents annually.
In the competitive world of property management, dominated by established, well-connected giants like Maloney Properties, Winn Management and Peabody Properties, United Housing has managed to grow and thrive, all the while expanding business opportunities for black, Latino and Asian subcontractors.
Gates and Strodder say their aim in launching the company 10 years ago was as much about creating jobs as it was about improving the community's housing stock.
"It's extremely important for the health of the community to have jobs," Gates says.
Last year, UHM spent $2.4 million of its subcontractor dollars with minority firms, a figure on par with many of the state's largest property managers with substantially larger portfolios.
UHM's spending with minority contractors accounted for 74 percent of it contracts. In contrast, MassHousing, the state's quasi-governmental affordable housing bank, spent 19 percent of its $199 million in contracts for goods and services on minority firms.
The fact that the majority of the suppliers, landscapers, lawyers, accountants, building contractors and building cleaners UHM does business with live and work in the same communities as their tenants helps build the economy of the Grove Hall neighborhood where they own and manage properties, according to Gates.
Gates, who grew up on Wabeno St., a stone's throw from the UHM office on Warren St., has seen Grove Hall come through tough times — riots and Urban Renewal in the 1960s, arson in the '60s and '70s and the long, steady decline of urban disinvestment that afflicted inner cities throughout the United States in the latter half of the 20th century.
The housing managed by UHM is among those that have been the most problematic over the last few decades — the rows of three-story brick apartment buildings that line the major thoroughfares and sides streets of Grove Hall.
Gone are the days when graffiti, litter and the visual reminders of delayed maintenance dominated the streetscapes. Under UHM management, the facades and entryways of the buildings remain clean and free of debris.
"I've seen the neighborhood improve," Gates says. "The entire section, from Warren St. going up Elm Hill Ave. has moved in a positive direction."
Along with solid brick facades, the buildings have what real estate professionals call "good bones," sturdy early 20th century construction, hardwood floors and steel-reinforced stairways.
"There are a lot of poor people packed into one place. Along with that there are social problems that come with it," Gates says.
In addition to maintaining housing stock, UHM administers services in several community centers located in and around its units — after school programs for children, adult basic education, job coaching. UHM funds the programming from its own budget and from grants staff members are able to raise.