East Boston High students start new NAACP chapter
Shanice Maxwell | 12/5/2013, 6 a.m.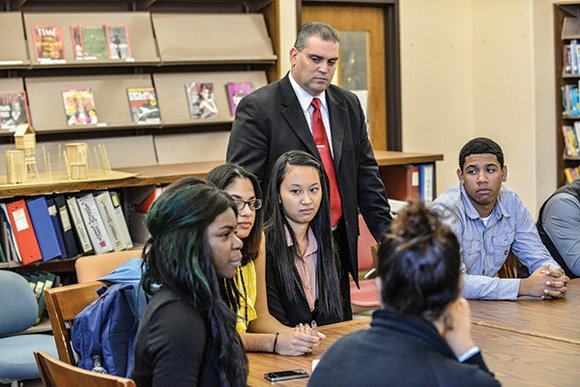 Reacting to the recent loss of a well-known athlete and graduate to gun violence, a group of East Boston High School students started the first NAACP high school chapter in Massachusetts. The chapter is made up of over 30 students from all grades.
Shortly after the news broke of the loss, which took place within the first days of school, the focus on the tragedy began to fade almost as quickly as it had begun. New chapter founder and advisor Janelle Ridley, 29, recalled many of the students' sentiments.
"They felt there was grief for a couple of days after it happened but then, where does it go?" she said. "Some of them even had the statement of, 'So, when I die the school's only going to think about me for a few days and then that's it?'"

Ridley says she wanted to show the kids their lives do have value. With the help of co-advisor Jessica Saravia and the support of Principal Phil Brangiforte, she helped form the chapter.
"A lot of students don't have someone to believe in them and believe that they're capable of becoming more and to me that's not accurate," she said. "I think every student, no matter if you're straight F's or straight A's, has the capabilities of becoming more. My goal in starting this is to let them know that someone cares."
The students involved in the chapter all agreed that something had to be done after the tragedy — and to show that they do not accept a culture that promotes violence, guns and loss of life.
The majority of the students in the chapter said they have had experience with loss related to gun violence.
"When I think of the NAACP being here at our school, I think it brings forth such an amazing opportunity, not only of us coming from different backgrounds and different areas in Boston but us being together as a youth-empowered council to help strengthen the core of East Boston, our city, our community and also the nation," said senior Jennifer Baptiste.
"I've witnessed one of my family members die in front of me when I was young," said senior Michael Regalado. "It scarred me for life. It hurts inside but you don't really know why gun violence happens. The reason I joined the NAACP is because there are little groups out there in the United States that make little change and that little change actually turns into something. I think if this little group actually does something in society, we can end up doing something in the world."
The students said they hope to raise awareness and challenge their peers to care more about issues that impact them.
"We prepare ourselves to bring forth awareness into our community," Baptiste said. "One thing we're actually planning right now is a workshop at the local Boys and Girls Club where we'll discuss gun law and the impact it has on Boston and the state, as well as key facts. Anyone can look at the news and debate or get angry over the things they see and the crimes that erupt but they need to understand where is all that coming from and why is this happening."