Activists continuing push for minimum wage ballot question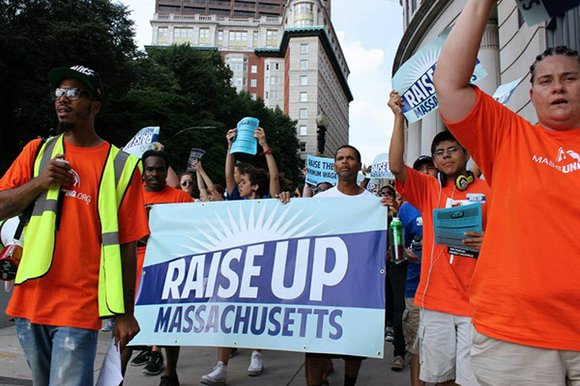 Despite the Mass. Senate's vote to raise the state's minimum wage to $11 an hour, labor activists say they will continue to move forward on a ballot referendum to raise the minimum wage and ensure that all workers earn sick time if they or family members are ill.
Over the last several months, more than 50 Massachusetts organizations conducted a campaign to collect signatures on petitions to have questions about minimum wage and sick time on the November 2014 election ballot. Each petition needed about 100,000 signatures by Nov. 20 to get a question or proposed measure on the ballot.
Led by Dorchester-based Raise Up Massachusetts, a group of community, faith and labor organizations, about 275,000 signatures were collected — enough to place the questions on the ballot for a state-wide vote next year.
"We have gone far above and beyond what is needed because there is a lot to be said for strength in numbers," said Susan Tousignant, president of SEIU Local 509 and a leader of the Raise Up Massachusetts coalition. "These numbers show just how many Massachusetts voters stand with families who need a higher minimum wage and earned sick time."
The organization credits the success of the signature drive to the support of thousands of volunteers across the state, who hosted signature-gathering events statewide and went door-to-door collecting hundreds of signatures each.
Raise Up Massachusetts leaders also feel the support from the Massachusetts public is building on the growing support across the country for minimum wage and earned sick time issues. This year, New Jersey, California, New York and Connecticut have raised their state's minimum wage. Earned sick time policies have recently been enacted in New Jersey, New York and Connecticut.
In Massachusetts, the efforts of the signature drive for the minimum wage question provides fuel to the fire of legislators pushing for a bill to raise minimum wage. With enough signatures to go to ballot next fall, legislators have until May to pass a bill on the issue or see the public decide at the voting booths.
Senate President Therese Murray proposed the $11 minimum wage increase, which would boost the yearly earnings of minimum wage workers from the current $16,000 a year to $22,000. The bill would also index minimum wage to inflation, guaranteeing automatic raises. Speaker Robert DeLeo has indicated the House will likely support an increase in the minimum wage, as long as the legislation is paired with reforms to the state's unemployment insurance system.
As explained by Lew Finfer, director of the Massachusetts Communities Action Network and a steering committee member of Raise Up Massachusetts, the passage of a bill to raise minimum wage by Massachusetts legislators is a best case scenario for those pushing the petition for the ballot question next fall. He points out that this is exactly what happened when Massachusetts passed its health-care law in 2008. Legislators took note of the signatures collected for a petition and the public demand for a state health-care law and passed a law before it even got to a vote.