Minority developers file suit against Northeastern Univ.
Columbia Plaza Associates suit charges school for reneging on development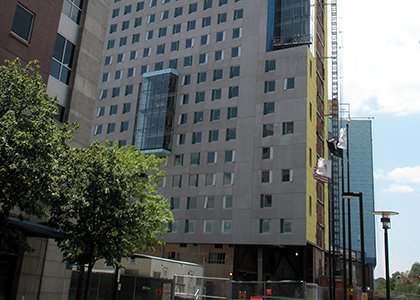 Howard Manly
A group of minority businessmen have sued Northeastern University for what they charge is not only a breach of contract involving the development of parcels of land in Roxbury but also an apparent violation of the city's Linkage Program designed to encourage minority businesses.
According to the suit filed last month in Suffolk Superior Court by Columbia Plaza Associates (CPA), Northeastern signed a contract on June 29, 1999 that named CPA as its partner in a joint venture called Renaissance Park Garage LLC that would develop Parcel 18-2, adjacent to Northeastern.
At the time, that parcel was owned by the Boston Redevelopment Authority (BRA) but the development rights were owned by CPA.

In addition, the agreement called for Northeastern to form a second joint venture with CPA to develop parcel 18-3A as a hotel or other commercial use in which CPA would receive 30 percent of the net profits.
Northeastern agreed in the contract to pay CPA a total of $800,000. According to the suit, Northeastern did pay $700,000 but still owes CPA $100,000. In the meantime, Northeastern built a parking garage on one of the parcels and constructed a high rise dormitory at Tremont and Ruggles streets.
But since the opening of the parking garage on Jan. 28, 2008 and the completion of the $127 million International Village dormitory on July 8, 2009, the suit alleges that Northeastern has reneged on its promises set forth in its contract with CPA.
The suit claims that the university has "failed" to provide an accounting for net receipts generated by the $16 million Renaissance Parking Garage and has "refused" to pay 50 percent of those receipts to CPA as promised.
The suit further alleges that Northeastern constructed the dormitory "in violation of public policy as to minority investment and that Northeastern "has failed to pay any fair value for such institutional use to Columbia Plaza Associates or make any accounting to CPA as to such institutional receipts."
Plans for a hotel are on hold. "The project was delayed due to a downturn in the economy, and there are ongoing discussions with the community partner on proceeding with this project," Northeastern stated in its Institutional Master Plan submitted to the Boston Redevelopment Authority in 2012.
Aside from the alleged violation of its contractual obligations with CPA, the suit brings attention to the city's Linkage Program – and Northeastern's alleged violations of the city's public policy.
"For over a decade," said John Cruz, the CPA president, "We have worked and negotiated in good faith with our partner Northeastern University to successfully complete the Linkage Program to bring real and substantial economic benefits to our community. Their actions ignore the intent and the spirit of the Linkage Program and further encroach on our community."
The Linkage program was created in the 1980s by then City Council President Bruce Bolling and BRA Director Steve Coyle. The idea was to link downtown development with development in residential areas. The Linkage Program was also designed to encourage minority employment and business development.