Demolition set to begin on Bartlett Yard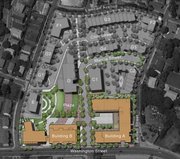 For residents in Roxbury the long-empty Bartlett Yard has been an ongoing topic of conversation. Plans to develop and revitalize the property have come and gone. But now the ball is rolling and the all-but-abandoned site is set to be cleared with demolition work scheduled to begin this fall.
A former MBTA bus yard, Bartlett Yard is now owned by Nuestra Comunidad Development Corp. and that company is working with Windale Developers on a project called Bartlett Place with the ultimate aim of developing 323 units of housing and 54,000 square feet of commercial property on 8.5 acres of land.
Also included will be a grocery store, shops, offices, a public market and plaza and new roads. The project has a total price tag of about $140 million.
According to Mark Matel, the Nuestra Comunidad Development Corp. project manager for Bartlett Place, the plan is for the housing to be 60 percent affordable and 40 percent moderate priced or market rate. The housing will be a mixture of home ownership and rental.
While Matel knows that the issue of urban housing development is always controversial, he asserts that Nuestra Comunidad Development is dedicated to a plan that will be agreeable to the community. "It is our mission to support affordable housing," Matel said.
He also says the company wants to quell any fears about issues such as gentrification that opponents of development in the city often raise. "We have to make sure that people who do live here stay here," Matel said. "And part of that is providing affordable housing. We are encouraging people to come but we are also encouraging people to stay."
The Bartlett Place project has four proposed phases. The first phase will be about 100 units of housing and a grocery store. The second phase is targeting senior housing. The third phase is being considered to develop artist housing and work space. The fourth phase would be the development of homes for sale.
Matel said that the later phases of the project are still being developed, but that phase one is mostly finalized in regards to what will be presented to the zoning board. If approved, the plan would be to break ground next summer or next fall.
According to him, phase one would specifically develop two buildings. The first building would be 60 units of housing and a grocery store and the other building would be 40 more units of housing. The first building is projected to cost about $28 million and the cost for the second building is still being finalized.
"We are not building them at the same time," Matel said. "One is going up first and then the other one is going up. We are really starting to pick up speed here and we are really close to securing funding."
He also pointed out that all the commercial development is being done in phase one.
The Bartlett Yard has been part of many development proposals in the last decade, many of which have been highly criticized by both the public and city officials. The result has been an essentially empty site.