New Dimock CEO Myechia Minter-Jordan driven by passion for patients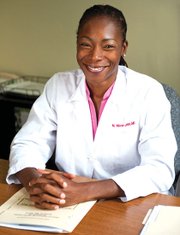 Dr. Myechia Minter-Jordan, the new president and CEO of The Dimock Center, is an accomplished doctor and hospital executive.
To say she is passionate about providing health care to everyone is an understatement.
"We are really going full throttle to make sure the community has access to the services we provide," said Minter-Jordan, who first came to The Dimock Center in Roxbury as chief medical officer in 2007 and officially took over her role as president and chief executive officer on July 1.
The 41-year-old Minter-Jordan is also dedicated to improving the community health-care model. And she wants to make sure The Dimock Center, already a recognized leader in community health care, will continue to lead the way.
"I relish the opportunity to talk … about issues that impact the Latino and black community," she said. "I think it is important to me to bring the voice of community health centers to that discussion.
"We can't stop there. We have to keep moving until it is recognized by all that community health centers are really the model … to create a place for patients and family where all their needs are met," she added.
Originally founded in 1862 as the New England Hospital for Women and Children, The Dimock Center serves Roxbury, Dorchester, Mattapan and Jamaica Plain. It is the second largest health center in Boston.
The center covers adult and child medicine, eye and dental care, HIV/AIDS services, and behavioral health such as inpatient and outpatient detox and recovery programs. The center also offers education programs such as Head Start.
Minter-Jordan sees child education services as a doorway into a bigger influence. About 350 kids are on the Dimock Center nine-acre campus every day. She wants to make sure that all those families are taking advantage of all the center has to offer.
"We want to show families that not only is your education important but your health and mental wellbeing is important," said Minter-Jordan.
A native of Long Island, N.Y., Minter-Jordan studied at Brown University in Rhode Island, where she received a bachelor's degree in arts, health and society in 1994 and a medical degree in 1998.
From there, she went to Johns Hopkins University in Baltimore, Md. as an instructor of medicine at Johns Hopkins Medical Center. Later, she became director of medical consultation services at Johns Hopkins Bayview Medical Center.
During her time at Johns Hopkins she also received an M.B.A. in health services.
Blending her business knowledge and interest in medicine is what led Minter-Jordan to the administrative side of health care and ultimately led her to taking a job as chief medical officer at The Dimock Center.
She explained that her medical knowledge helps her understand what patients need while her business knowledge helps her determine the best way to organize and fund a program to provide the needed services.
"As I looked more deeply into the system you see there are so many improvements you can make system-wide that have a deeper lasting effect on patients and their families," she said. "But I am not so far removed from the work we do. I am really, really close to that. … When we make changes here I can really see that impact.