Democratic Senate candidates courting communities of color
Yawu Miller | 4/24/2013, 8:44 a.m.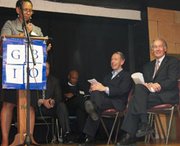 With less than a week to go before the Democratic primary in the special election to fill the US Senate seat vacated by John Kerry, the campaigns of congressmen Ed Markey and Stephen Lynch are working to pull votes in Boston's black community, with campaign offices open and staff and volunteers hitting the pavement.
Both campaigns have a dedicated paid staffer in charge of pulling votes in the state's black, Latino and Asian communities.
"For the Markey Campaign, the black community is a priority," said campaign spokesman Andrew Zimmerman.
The Markey campaign hired David Brade as political coordinator and Hodari Cail as director of African American outreach.
Lynch hired Jerome Frazier as state-wide multicultural coordinator.
"I feel like Lynch has a handle on the pressing issues we experience in urban communities," Frazier said.
The resources each campaign has dedicated to communities of color reflects a major shift from elections past, where reliably Democratic voters in Massachusetts' black, Latino and Asian communities were often taken for granted, notes James Jennings, professor of Urban and Environmental Policy and Planning at Tufts University.
"This shows that people have learned their lesson," he said. "Elizabeth Warren did the same thing and she won by a good margin. A lot of those votes came from the urban areas with high numbers of African American and Latino voters."
Campaign activity was subdued last week as the city emerged from the fallout from the Marathon bombing and its violent aftermath. A candidate forum organized by the RoxVote coalition scheduled for Saturday at the Reggie Lewis Track and Athletic Center was called off the day before as the city hunkered down under the Governor's shelter-in-place order.
At a forum held by the Greater Boston Interfaith Organization in Dorchester Sunday, the candidates stressed their similarities more than their differences. Both spoke about the issue of gun violence in their remarks.
"There's no daylight between my brother Ed Markey and me on the issue of gun violence," Lynch told the gathering of more than 500 GBIO members who turned out to the forum, held at the St. Mark Catholic Church on Dorchester Avenue.
Beyond gun violence, the candidates' voting records on a wide range of issues are largely similar. The national universal health care law President Obama passed, which Lynch opposed, stands as one of the candidates' major differences.
"In Massachusetts, you can't go by a candidate's voting record," said voting rights activist Malia Lazu. "It's more about nuance."
In the Senate campaign, endorsements demonstrate some of the nuanced differences between the two campaigns.
Markey lists among his endorsers City Councilors Charles Yancey and Ayanna Pressley, political activist and former NAACP Boston Branch President Louis Elisa and Pleasant Hill Baptist Church minister Miniard Culpepper.
Lynch boasts support from several Democratic and Republican Massachusetts lawmakers and union officials.
Among union endorsements, Lynch, a former iron worker, received the lion's share of building trades endorsements, while Markey was endorsed by the Service Employees International Union, which rivals the building trades unions in their ability to organize and mobilize members in get-out-the-vote efforts.
The Massachusetts AFL-CIO declined to endorse in the Democratic Primary.
The victor in next Tuesday's Democratic primary will face off against the victor in a three-way Republican contest between state Rep. Dan Winslow, businessman Gabriel Gomez and former U.S. Attorney Michael Sullivan.
The Democratic victor will likely continue to invest resources in the state's black, Latino and Asian communities, according to Jennings. The challenge, he says, is for voters in communities of color to have more say in candidates' platforms.
"There has to be more conversation about developing an urban agenda," he said. "We're moving to a point in the electoral arena where that can and should happen."