Perry's 'Temptation' tells tale of lust and infidelity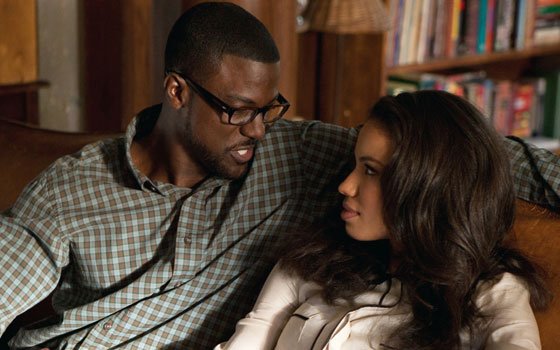 Judith (Jurnee Smollett-Bell) with Harley (Robbie Jones) in Tyler Perry's "Temptation." (Photo courtesy of Lionsgate)
Anytime Tyler Perry releases a film, it seems that it is met with criticism. In his latest stage play turned movie, "Temptation, Confessions of a Marriage Counselor," Perry has garnered criticism for his lack of sensitivity for women in abusive relationships.
"Temptation" is more than a story of a good girl gone bad; it is a cautionary tale illustrating what can happen when we allow ourselves to be tempted and start lusting after the wrong things.
"Temptation" depicts the life of Judith, played by Jurnee Smollet-Bell, best known for her roles in movies like "Eve's Bayou," and "The Great Debaters." Raised by a devoutly Christian mother, Judith is from a small town. She is happily married to her childhood sweetheart, Brice, played by Lance Gross, whom she met in church at the age of 6. After marrying, the two newlyweds set out to build a life together and to fulfill their career aspirations. He wants to become a pharmacist and she wants her own practice as a marriage counselor.
Judith works at a match-making agency for millionaires where her boss, Janice (Vanessa L. Williams) assigns her to work with Harley (Robbie Jones). In this film, Harley represents the devil in human form. On the surface, Harley seems like the man of every woman's dreams. He's rich, attentive and charming. But proving that all that glitters is not gold, Harley becomes Judith's worst nightmare.
Initially unimpressed by his wealth and charm, Judith rejects his advances. But like every predator, Harley hunts his prey, cunningly and purposefully. After one late-night encounter, learning that her husband is the only man that she has ever been with, Harley starts to tempt Judith, similar to Satan tempting Eve in the Garden of Eden.
Harley starts to place doubt in her mind about the intimacy of her marriage. He says, seductively, "Sex should be random, like animals, in the kitchen, in the bathroom, in the car, on a plane…" not the same old routine, in the bedroom, with the lights off, after the pillows have been fluffed — which is what Judith currently experiences with her husband. These comments by Harley awaken a desire in Judith, leaving her dissatisfied and a bit curious.
Already frustrated with things at home, Judith starts to question her husband's manhood and unconsciously starts comparing her husband to Harley. Now at Harley's prodding, she starts to question what should be the most sacred covenant between a husband and wife: their private affairs in their bedroom.
In this film, Brice represents the "do-right" brother, and the movie, illustrates how "Mr. Do-Right" constantly loses out to "Mr. No-Good."
Even when Harley forces himself on her, like so many women unaware of the first signs of abuse, Judith gives in. Once Harley succeeds in seducing her, she becomes intimately entangled, making it easier for him to take advantage of her and more difficult for her to escape his grasp.