'Book of Mormon' marks new chapter for 'South Park' duo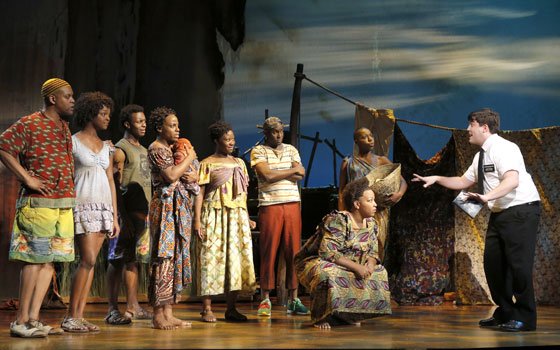 With heart and raunchy humor, "The Book of Mormon" makes the case that no matter how bad things get, good can still prevail.
A tale about a pair of Mormon missionaries undergoing growing pains en route to adulthood into a musical comedy "The Book of Mormon," winner of nine 2011 Tony Awards including Best Musical, is one of the hottest tickets on Broadway. But Bostonians needn't go further than the Boston Opera House to see the sensational touring company production, a presentation of Broadway in Boston on stage here through April 28.
Trey Parker and Matt Stone, winners of four Emmy Awards for their animated cable series "South Park," wrote the book, music and lyrics with a fellow master of late adolescent angst, Robert Lopez, the co-creator of another Broadway hit, the musical comedy "Avenue Q."  
The show, which runs about two hours with one intermission, has a "South Park"-style storyline that lampoons hypocrisy through characters that push the limits of outrageous behavior but circle back to redemption.
Parker and Stone, newcomers to Broadway, turned from the small screen to the big stage with seasoned partners. Tony Award-winner Casey Nicholaw co-directed the production with Parker and designed its choreography.  
Sets by Scott Pask, lighting by Brian MacDevitt and Ann Roth's costumes transport viewers from scenes of 19th-century Mormon founders to a contemporary training camp for missionaries and an African village, as well as dreamscapes that vary from a candy-colored Disneyland vision of Orlando, Fla., to a nightmare inhabited by Hitler, Jeffrey Dahmer, Johnny Cochran and Genghis Khan.  
Stephen Oremus arranged the vocals and rock-infused score, which he orchestrated with Larry Hochman. Cian McCarthy directs a nine-member orchestra that play 21 instruments with spark and precision.
What makes the production truly sensational is its cast, who draw us into their dreams and dilemmas with verve and warmth.
In the opening scene of the show, the ensemble of missionaries celebrates the completion of their training. They launch an ebullient drill-like dance as they sing the show's theme song, "Hello," a send-up of the doorbell-ringing ritual of Mormon missionaries.  
Among the partners is an unlikely pair. Tall and handsome Elder Price dreams of doing something "incredible" as a missionary in his ideal destination, Orlando. Gushing at his partner is the rumpled and pot-bellied Elder Cunningham, who can't believe his luck.
Mark Evans as Elder Price and Christopher John O'Neill as his frumpy sidekick head a terrific cast of 33 who make each scene and song-and-dance number snap with life.
Two by two, the newly minted elders receive their assignments. After others are dispatched to such locales as Norway, France and Japan, Cunningham and Price learn that they are being sent to a tiny village in Uganda. Elder Cunningham is eager to go anywhere with his partner, although he has no idea where Uganda is. Initially horrified, Elder Cunningham cheers up, buoyed by his partner's enthusiasm.
Welcoming the pair to their outpost, which has yet to make a single convert, is the wonderful Grey Henson as Elder McKinley. Hapless but cheerful in his effort to remain secretly gay, he leads the ensemble in his snappy anthem to deal with behaviors outside the rules of his church, "Turn It Off."