Menino's exit triggers flood of love, support and thanks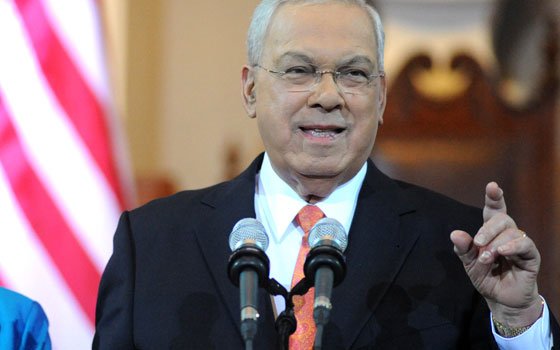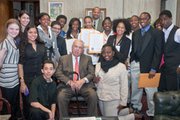 In announcing that he would not seek an unprecedented sixth term, Mayor Thomas Menino, the former Hyde Park City Councilor, touched off a wave of accolades, including one from President Barack Obama.
"Boston is the vibrant, welcoming and world-class city it is today because of Tom Menino," Obama gushed in a statement. "His efforts to revitalize neighborhoods, schools and businesses, better integrate police officers into their communities and reduce gun violence, reach out to the homeless and marginalized, and engage young people in the life of their city has charted Boston on a course for a better future."
 Recently elected U.S. Senator Elizabeth Warren received a key endorsement from Menino during her campaign against GOP darling Scott Brown and was equally profuse: "Tom Menino is the best. Period. He is the best mayor in America. He is the best friend to the neighborhoods and people of Boston. He is the best example of how a city can and should be governed."
For Menino, his work in Boston starts and ends with his love for a city that has sometimes painfully moved past the ugly days of court-ordered busing to taking major strides in becoming a world-class, inclusive city. "My No. 1 thing is bringing racial harmony to the city," he told the New York Times last year.
For the last 20 years, Menino, the first Italian-American to hold the seat, breaking an Irish stranglehold on the job since the 1930s, has held the reigns without much political competition in large part because of his commitment to the city's core — its neighborhoods.   
"I am here with the people I love, to tell the city I love, that I will leave the job that I love," Menino, 70, the city's longest-serving mayor, told the standing-room-only crowd of well-wishers that included Gov. Deval Patrick, Treasurer Steven Grossman, U.S. Sen. William "Mo" Cowan, U.S. Reps. Stephen F. Lynch and Michael Capuano, and Attorney General Martha Coakley, along with city councilors and members of the city's State House delegation.
Known for his boundless energy and 18-hour days, Menino is said to have met at least half of the city's nearly 635,000 during his tenure. He attended so many neighborhood meetings, braved so many frigid nights to count and care for the homeless, and shoveled so much dirt at new constructions sites that one former opponent once quipped that Menino was known to show up for the opening of an envelope.
As he walked with a cane to the podium at Fanueil Hall to make his announcement last week, Menino was not the same "urban mechanic," who had pledged years ago to eschew all the grand visions and trappings of modern day politicians and concentrate on the day-to-day grind of running a major municipality: public education, urban crime and, of course, pothole repairs.
His health is just not the same. Last year, while on vacation in Italy, the 70-year-old mayor was treated for a respiratory infection. While in the hospital he suffered complications including a compression fracture in a vertebra in his spine and was diagnosed with Type 2 diabetes. After being discharged, he spent three months recuperating.