Shirley Sherrod rebounds with 'The Courage to Hope'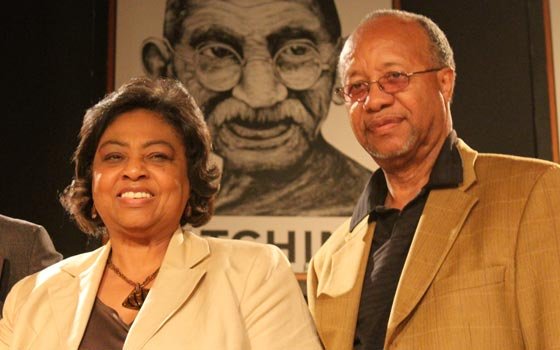 When Shirley Sherrod got a call from the White House requesting her resignation, her first thought was: "How can I explain to my children that I got fired by the first black president?"
Sherrod's grandchildren - who she sometimes refers to as her children - were "so proud" that Barack Obama had become the nation's first black president, and even more proud to have a grandmother who worked for him.
Every Saturday, Sherrod would take them out to dinner and tell them stories of what it was like to serve in his administration.
When she was forced out of her position as the U.S. Department of Agriculture's Director of Rural Development for the state of Georgia, she knew it would be difficult to explain. "People do evil things, but you have to stand for what's right," Sherrod later told them. "Yes, it's not easy, but truth prevails."
In 2010, Sherrod became the victim of a right-wing smear campaign when blogger Andrew Breitbart posted a video on his website of Sherrod speaking to the NAACP and edited the video to make it seem like she endorsed discriminatory policies against whites.
The story immediately made its way around the media, while Sherrod pleaded for the clip to be taken in context. The backlash was swift. In addition to conservative news outlets such as Fox decrying her remarks, NAACP President Benjamin Jealous issued a statement saying the organization was "appalled"; just hours later, the White House forced her resignation.
But the outrage was for nothing. A full version of her speech was later released, revealing that her comments had been egregiously misrepresented. The president called Sherrod - but came short of apologizing, she said - and offered her another job in the USDA. Sherrod declined and launched a lawsuit against Breitbart for defamation.
In her new book, "The Courage to Hope: How I Stood Up to the Politics of Fear," Sherrod not only details this now-famous incident, but chronicles her lifelong career as a Civil Rights activist, proving that if the country had known anything about her remarkable life, it never would have fallen for the claims against her.
Sherrod grew up on a farm in Baker County, Ga. during the era of segregation, a time when the sheriff - known as "the gator" - "ruled everyone and everything."
In 1957, just three years after the landmark Supreme Court decision Brown v. Board of Education, which struck down segregation in schools, Sherrod was among the group of black students to integrate the local all-white school. Despite this small sign of progress, Sherrod said she felt the ongoing racism "would not change," and became determined to get out of the South.
All that changed on March 14, 1965. Sherrod's father, Hosie Miller, was shot and killed by a white neighbor in a dispute over some cows. His murderer was never prosecuted, even though there were three black witnesses.
"On the night of his death, I knew that I needed to do something," Sherrod said. "I couldn't pick up a gun and ... try to kill the man, but I had to do something. I was praying that night, and the thought just came to me: You can give up your dream of going to the North, or you can stay in the South and devote your life to change. That's what I've done."