Simple changes for a healthier heart
9/12/2012, 12:04 p.m.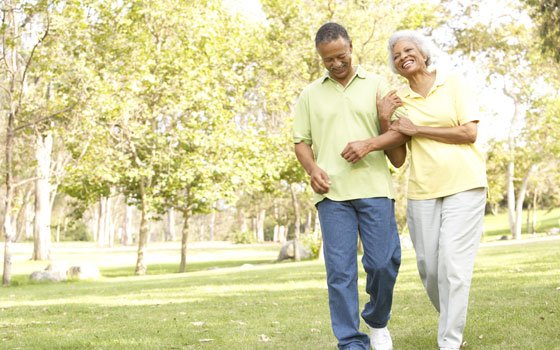 Did you know that small changes in your lifestyle can help prevent heart disease so that you can live a longer and healthier life? Here are some simple changes that can help improve your heart health.
Get moving
Experts recommend getting at least 30 minutes of physical activity a day, five days a week. But physical activity does not have to mean hitting the gym and running for hours on end. Try to incorporate more physical activity into your everyday life, such as taking the stairs instead of the elevator or having a "walking" meeting at work. To get the family involved, skip dessert and go for a walk together after dinner. Making these small changes can promote better health.
Eat heart-healthy
You do not have to cut out your favorite foods to stay heart healthy. Balance your diet with nutritious foods and watch your portions. To learn more about a healthy diet, see the new food pyramid at www.choosemyplate.gov. There, you can see how eating the right amounts of fruits, vegetables, whole grains, lean protein and low-fat dairy can help improve your health and make you feel more satisfied. Also, if you have high blood pressure or are trying to lose weight, ask your doctor about trying the DASH Diet. It's  a sensible diet proven to help improve health and reduce risk for heart disease. Learn more about the DASH Diet at www.brighamandwomens.org/dashdiet.
Quit smoking
For smokers, quitting smoking is one of the best things for your health – reducing risk for heart disease, cancer, lung disease and more. If you want to quit smoking, it is important to know that you don't have to go it alone. There are resources available that can help make quitting easier, from nicotine replacement therapy to free texting services that provide encouragement, advice and tips to help smokers quit. If you are interested in quitting smoking and want more information, visit www.smokefree.gov.
Reduce stress
Often overlooked, stress is a well-known risk factor for heart disease. Although stress can help motivate us and is a natural part of life, constant high levels of stress can take a toll on both the mind and body. So it is important to take time to decompress on a regular basis through exercise, meditation, yoga or other activities that can help manage stress. Take a few minutes and try simple breathing techniques to help you relax.
Know your numbers
Another way to improve your health is to know the important markers of heart health. By knowing your blood pressure, cholesterol, blood sugar and weight, you can get a better sense of your health and what you can improve upon.
Written by JoAnne Foody, M.D. and Caitlin Johnson, Cardiovascular Wellness Service, Brigham and Women's Hospital.