Jazz legend Don Byron melds musical genres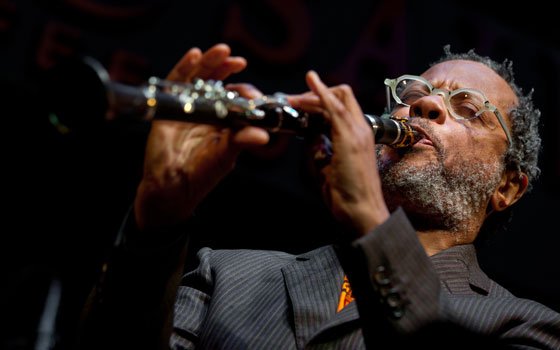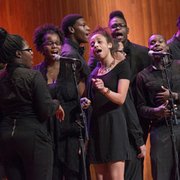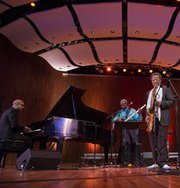 From West African chants and slaves' work songs to the blues and hip hop, African American gospel music crosses centuries of musical traditions. Its rich and ever-renewing legacy inspires the latest project of versatile jazz musician Don Byron, whose combo, the Don Byron New Gospel Quintet, performed last Saturday night in Kresge Auditorium at the Massachusetts Institute of Technology in Cambridge.
A visiting artist at MIT this year, Byron brought generations together in the concert, an MIT Music and Theater Arts production. Alternating between clarinet and tenor saxophone, Byron was accompanied by vocalist Carla Cook, pianist Xavier Davis, bassist Brad Jones and drummer Pheeroan akLaff — each a virtuoso. Joining them in the second part of the program were the 18-member Boston Arts Academy Spirituals Ensemble, directed by Tyrone Sutton, and a five-man MIT horn section.
Born from the melding of traditional hymns with the blues, gospel music is fertile ground for Byron, a brilliant synthesizer. Byron was raised in the Bronx, where he absorbed a multicultural mix of musical traditions. Although he later studied in the cerebral Third Stream Department of the New England Conservatory of Music, he has never strayed too far from music animated by pop, RandB and Latin energies.
The program spanned more than a century of artists, from pioneers Thomas A. Dorsey (1899 – 1993) and Sister Rosetta Tharpe (1915 – 1973) to contemporary gospel composer and arranger Kirk Franklin.  
Offering a bit of musical autobiography in between comments on the artists he was celebrating, Byron was an exuberant host, his round white eyeglasses and long white scarf giving him the look of an urbane magician. Over the course of the evening, he and his singers and instrumentalists conjured the full glory of the gospel tradition, elevating everyone on stage and in the audience.
Pointing out that his attraction to gospel music coincides with a growth in his own faith, Byron cited some of his musical deities, a pantheon that includes fellow Bronx-bred musician Eddie Palmieri, a jazz pianist whose music pulses with the rhythms of his native Puerto Rico.
Sound system problems ruined the opening selection "Sham Time" by Eddie Harris, but were fixed in time for Carla Cook's soulful rendition of the second song, "Take My Hand, Precious Lord." Sung by Mahalia Jackson at the funeral of Martin Luther King, the hymn was composed by Thomas A. Dorsey, music director at Pilgrim Baptist Church in Chicago from 1932 until the late 1970s.
Byron told the audience that Dorsey wrote the song while grieving the loss of his wife, who died in childbirth, and his infant son, who died two days later.
Two more stirring Dorsey classics followed: "When I've Sung My Last Song" and "It's My Desire." The set concluded with a rousing "Walkin' on the King's Highway," a traditional song that ambles to a swinging beat. Byron spoke of the legendary singer and electric guitarist who popularized it, Sister Rosetta Tharpe. A commanding performer in both gospel and RandB realms, she also made her mark in early rock 'n' roll, said Byron. Comparing Tharpe to another RandB great, Byron said, "Bo Diddley has nothing on her."    
In the second set, Cook delivered a sweet rendering of the gentle anthem "Beams of Heaven" by Charles Albert Tindley (1851 – 1933). She and the ensemble paid tribute to Aretha Franklin with a soaring version of a spiritual she has often recorded, "Precious Memories," by J.B.F. Wright (1877-1959).
In between these two venerable songs, Byron introduced "I Smile," by Kirk Franklin, saying that the young man's gospel arrangements invoked the band Earth, Wind and Fire and its irresistible amalgam of soul, disco, RandB, funk, jazz and rock.
The Boston Arts Academy Spirituals Ensemble strode on stage. Demonstrating the full power and precision of their tradition, the young men and women joined Byron and his ensemble and the MIT horn players to perform a rhapsodic "I Smile" as well as the surging finale of the evening, Franklin's "Hosanna."   
The audience rose in a sustained standing ovation as high-spirited as the concert itself.