in the Mix
10/31/2012, 9:38 a.m.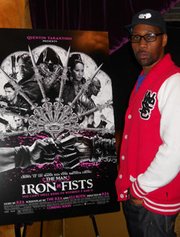 Wu-Tang's RZA on the rise…
Known to hip hop fans as RZA, the Grammy-Award winning leader of the Wu-Tang Clan, Robert "Bobby" Fitzgerald Diggs grew up on a diet of martial arts films on Staten Island.
Already a legendary rapper/producer and an up-and-coming actor, RZA is about to become even more well-known in the world of film with the upcoming release of the action/adventure Kung Fu flick "The Man with the Iron Fists."
RZA makes his feature-film debut as a director and co-writer (along with "Hostel" director Eli Roth) as well as leading man alongside a cast led by Russell Crowe as "Jack Knife" and Lucy Liu as "Madam Blossom."
 The film tells an epic story of warriors, assassins and a lone outsider hero who descend on a fabled village in China for a winner-take-all battle for a fortune in gold.
In town recently to perform at Royale, RZA chatted before his show about his love of martial arts movies, the Chinese martial arts film actor Gordon Liu, and, of course, "The Man with the Iron Fists."
Now that the movie is produced after having germinated in your mind for several years, how are you feeling about it?
Well, I'm still nervous because it's such a big investment to me and the people who invested their time in me. This is not like a movie they did in Hollywood with big hotel suites or trailers. This was in China and it was cold and some of the actors had never been there before and you had to get visas. You didn't know the language.
It was a tough job that I put everybody through and the studio trusted me. It's not like a black guy doing a film about his neighborhood. I'm still nervous in the sense of I really wanted it to be successful because of so much time and energy that everybody put into it. So, I had that part on me.
As a man and as an artist I feel very, very accomplished, because I see an idea that started in a little kid's mind who walked the streets of Staten Island and New York watching these Kung Fu movies and made some music that reflected how he felt about it, but actually got the chance to visually show the world his imagination. I say this also, the chance to go to China and sit down with Gordon Liu himself, the "Master Killer," the executioner from Shao Lin is so unreal.
It's such a blessing. Personally, I've already succeeded.
What was it about Kung Fu movies and karate flicks that captivated your imagination as a child?
I think the first thing is action. We all love ass-kicking. As I grew into my teenage years, it was the brotherhood, it was the loyalty. It was also the fight against oppression. Growing up in my day, it was a very small history about us beyond slavery. I grew up with 11 brothers and sisters in poverty. These movies were escapism for me. And then to see a movie like "36 Chambers" where Gordon Liu plays a student in school who's oppressed by the government for the way they think and for their ideas. And the school is destroyed, the teachers are killed and his family is killed. I saw that oppression exists around the world and it wasn't just something in my neighborhood. And yet, I saw a man rise above it and win the challenge. It just gave me a different inspiration.