Arts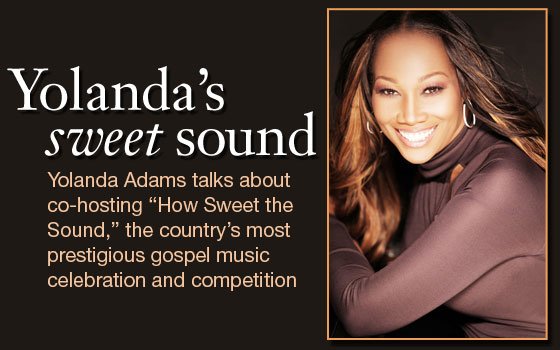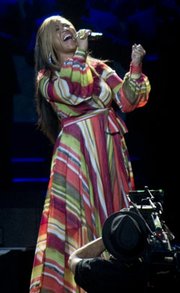 Ever since her late-'80s debut "Just as I Am," Yolanda Adams has carried the torch for contemporary gospel and inspirational music via a dozen glorious albums.
Stunningly beautiful, exceptionally educated, filled with the spirit and blessed with one of the most powerful voices in any genre of music, this former schoolteacher is a beacon of God's light.
Born in Houston on Aug. 27, 1961, Adam has earned numerous accolades for her efforts, including the first American Music Award for Contemporary Gospel Artist, four Gospel Music Association Dove Awards and five Grammy Awards.  
Christened the First Lady of Modern Gospel, Adams' pioneering blend of gospel and RandB with a touch of jazz continues to inspire her fans and transform the musical landscape. Now in its fifth year of celebrating the community and the power of gospel music, the national finale of gospel celebration "How Sweet the Sound" will be staged in New York on Nov. 4th at the Barclays Center in Brooklyn.
What's it been like judging "How Sweet the Sound?" Is it similar to the job you do on BET's "Sunday Best?"
 No, I actually co-hosted with Donald [Lawrence] this year. So, I didn't have to face the difficult challenge of judging these great choirs.
Do you care to share which choir you think is going to win?
The crazy part is that the finalists are the top choirs from all of the cities that we chose. So, there are no duds left in this selection of choirs. These really are just the cream of the crop, the best choirs in the U.S.
Which of your songs has the most personal meaning for you?
That's like asking "Which of your children is the most precious?" When I write a song, it comes from the heart and is based on a specific experience. You can't really say that one experience is greater than another, because all of your experiences take you through life on this journey.
Which one do you think has the biggest emotional impact on your audience?  
Wow! I have no idea. Some days it may be "Just a Prayer Away." Some audiences want "Victory." Others want "The Battle Is the Lord's." I have so many songs that have impacted people in different ways. "Fragile Heart" is one that really took off years ago in South Africa when I had 20,000 people singing along with me.
You served as spokesperson for Operation Rebound, a program that addressed the concern of inner-city schoolchildren, and you worked in the past as a schoolteacher while you were modeling. Can you share with us the importance of education and how it helped you in the music business?
Education helps you to be a well-rounded person, period. It teaches you how to take in information and data, process it and use it for life-building. Education was key in my family. You were going to college. Unfortunately, I think what's happening nowadays is that many young people think they don't need to avail themselves of higher education because a lot of music stars left high school before graduating. Kam, you and I both know that you can be hot today in the music business and then nobody knows who you are tomorrow. So, you always have to have a good education. I am a stickler for that.