Roxbury Latin takes pride in its Renaissance men
10/11/2012, 6:10 a.m.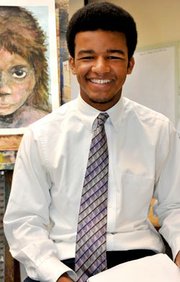 John Eliot, after whom the Eliot Church in Roxbury is named and who preached for many years at the First Church in the square that bears his name, founded The Roxbury Latin School in 1645 "to fit [students] for public service both in church and commonwealth in succeeding ages." He believed that, whatever a man's profession, the thrust of that man's life should be "public service." He hoped to instill in students a desire to live serious lives of noble purpose characterized by a concern and respect for others. The Founder's statement may have been written 367 years ago, but it still expresses Roxbury Latin's mission today.
With fewer than 300 boys in grades 7-12, The Roxbury Latin School, located in West Roxbury (an easy 10-minute commute from Forest Hills), is a small school that strives to prepare its students not only for college, but also—more importantly—for life. It is hard for boys at Roxbury Latin to "fall through the cracks" because we pride ourselves on knowing and loving every boy. While formal structures (such as our advisor system) guarantee that a boy will be guided by an adult, it is the smallness of the School community that ensures that many faculty and staff will know and care about a boy.
At Roxbury Latin, there are a number of extracurricular activities that expand and challenge the abilities of our students. We offer programs in sports, music, drama, community service, public speaking, debate, Model United Nations and School publications. Our boys possess richly diverse talents and do not confine themselves to only one or two extracurricular activities. They observe their peers engaged in many commitments, and they benefit from this positive example as it inspires them to try new things and often to discover a passion for an activity that, previously, they never would have expected to enjoy.
One boy, Khalif Mitchell of Hyde Park, who is now beginning his senior year, has taken full advantage of the numerous academic and extracurricular opportunities at Roxbury Latin. Since his arrival as a seventh grader, Khalif has been a strong student, taking a demanding course load of honors and Advanced Placement classes. Last spring, he earned an excellent score (4) on both the Computer Science and English Literature AP Exams, and he is currently taking two other AP courses (Calculus and Music Theory). He also is one of only 1,600 African Americans in the country who has qualified as a semifinalist for the National Achievement Competition, which recognizes the highest test performers on the 2011 PSAT/NMSQT.  
Khalif came to Roxbury Latin because he wanted a greater academic challenge, and he believed that the School's learning environment would force him to become a more proactive student. He admits that even though it took him a little while to get used to the increased rigor, he always felt supported by his teachers. Khalif stresses the importance of his teachers in his academic and personal development, noting, "I have had some tough stretches. For example, in the middle of my junior year I was having a hard time finding success, but my teachers helped me get through those bumps. It means a lot when teachers know you and care." Since he has received such support, Khalif, in turn, has worked hard to meet and exceed the expectations of his teachers.