Commonwealth School: Always Searching for More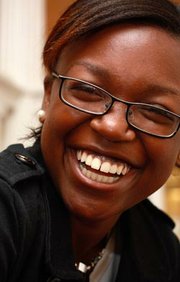 "Who can find the most trash?"
That challenge from 17-year-old Jessica François sent a handful of children scrambling through the streets of their rural Nicaraguan village.
François, who lives in Dorchester, spent six weeks in Nicaragua as part of a program sponsored by "Amigos de las Américas," a non-profit organization that sends high school and college students to help communities in Central and South America and the Caribbean through community service and leadership training.     
"Their idea of community service is very different," she said. "They want us to help the community do it for themselves, to be sustainable."
In the village, she helped at a school and at a local clinic, where she gave oral vaccines to babies. The trash hunt was part of an environmental health class she taught.
"That was my favorite," she recalled with a big smile. "Kids were running down the street screaming 'over there!'" The children got prizes: "Candy — and a toothbrush."
Jessica's participation in "Amigos" was arranged by Summer Search, which she joined in 10th grade. She was nominated for Summer Search that year by Larry Geffin, her advisor at Commonwealth School, where Jessica is now a senior.
"Commonwealth introduces you to a lot of opportunities," she said, and the school's teachers have helped her to make the most of them. Knowing that the language wasn't her strongest subject, Spanish teacher Frederique Thiebault-Adjout invited Jessica to drop by her house and talk, "just so I could practice before I left," said Jessica.
The eye-opening and fulfilling summer may be one of her more iconic high school memories, but Jessica recognizes how so many parts of her life revolve around Commonwealth. She came to the private high school in Boston's Back Bay three years ago, when she was unhappy at one of Boston's largest and most selective public high schools. A best friend already going to Commonwealth suggested she take a look.
"I came to visit her a couple of times, and I just loved Commonwealth," said Jessica. "Everybody was so nice, and I liked how the teachers paid so much attention to the kids."
In the face of Jessica's enthusiasm, her mother, who didn't like the idea of private school at first, eventually came around.
"Commonwealth is a place for kids who really want to learn, including learning from other people," observed Jessica.
The strength of those personal connections has enabled her to persevere in the school's rigorous academic environment and given her friends and colleagues the ability to share the joy and triumph when she goes further than she thought she could.
The connection she has with her teachers is especially important, and Jessica singled out Catherine Brewster, an English teacher, when thinking about her favorite teachers and classes.
"Eleventh-grade English with her was really challenging, but I learned so much from it," she said, noting that she and Brewster met every week outside of class to discuss readings and to work on Jessica's writing.
"Last year we ended up talking a lot about how to make paragraphs coherent, how to write in ways that help a reader understand and share in what Jessica is saying," said Brewster. "Now, I see a lot more confidence and cohesion in her essays."