Romney still invisible to blacks, despite Obama's weak debate
Yawu Miller | 10/10/2012, 9:37 a.m.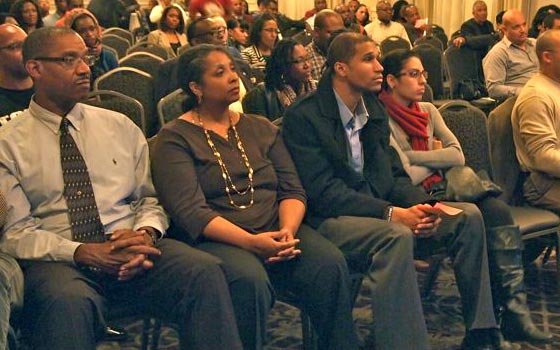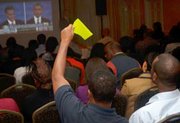 The Boston Branch of the NAACP and Kappa Alpha Psi fraternity hosted a debate watch party for the first Presidential Debate at Phillips Old Colony House in Dorchester. (Eric Esteves photo)
President Barack Obama's first debate performance was widely panned as listless by pundits and polls, but former Massachusetts Gov. Mitt Romney won no points from African American viewers at a Boston NAACP debate watch party last week.
The Republican nominee, who drew zero percent of black support in an August NBC/Wall Street Journal poll, left watchers rolling their eyes and hoping the incumbent does better in the final two showdowns before the Nov. 6 election.
"We know him," said District 7 City Councilor Tito Jackson of the ex-Bay State governor at Phillips Old Colony House in Dorchester. "We know he walked away from the Ferdinand Building. We know he couldn't find his way to Roxbury. And we know he wasn't a champion for the middle class when he was governor. We can judge him on his record."
While African Americans outside of Massachusetts may not have the benefit of experience, Romney's pledge to repeal the national health care plan and cut federal spending probably didn't earn him many friends among the nation's black population, according to Nancy Rachel Rousseau, a field organizer for the Elizabeth Warren Senate campaign.
"There really isn't much support for him," she said. "He doesn't come off as being genuine."
Despite the lack of backing for Romney among the spectators last week, many acknowledged that he out-performed the president in the University of Denver clash, which focused largely on domestic issues affecting the middle class. The topic of poverty and the growing ranks of the homeless and the hungry hardly made an appearance in the debate.
"I don't think Obama was on his A-game," said Hyde Park resident Nakisha Lewis. "I hope Obama does better in the next debate."
Pundits on the national stage gave Romney credit for his aggressive debating style, which he used to critique the president's policies and record in office. Obama was faulted for not responding aggressively to Romney's attacks and failing to call Romney out on his protean positions on issues and other weaknesses.
The outcome of the first White House debate wasn't the only area of agreement among observers. There was near unanimity in declaring that the showdown in the Mile High City set forth a clear set of choices between governing philosophies, especially in the areas of taxes and health care.
The nation's first black president was the first to draw a clear line in the sand during the 90-minute exchange, moderated by Public Broadcasting Service news host Jim Lehrer.
"Governor Romney has a perspective that says that if we cut taxes skewed toward the wealthy and roll back regulations, that we'll be better off," said Obama. "I've got a different view. I think we've got to invest in education and training. I think it's important for us to develop new sources of energy here in America, that we change our tax code to make sure that we're helping small businesses and companies that are investing here in the United States, that we take some of the money that we're saving as we wind down two wars to rebuild America and that we reduce our deficit in a balanced way that allows us to make these critical investments."