Warren's campaign message resonates with black voters
Yawu Miller | 10/3/2012, 10:32 a.m.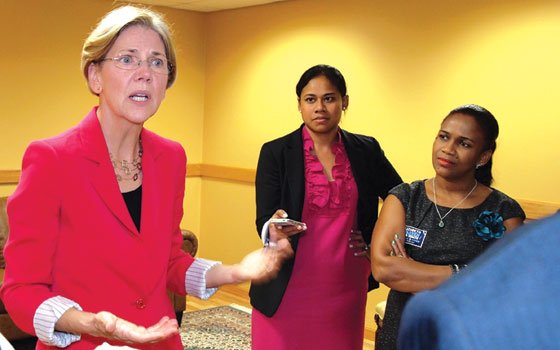 U.S. Sen. Scott Brown's decision to skip a candidates forum at Roxbury Community College last week may well have been in his best interest.
That was no clearer than when challenger Elizabeth Warren received a standing ovation from the audience that gathered in the Media Arts Center at Roxbury Community College. And that was before she even sat down.
Judging from the frequent applause, Warren's economic justice campaign themes resonated with the crowd of electoral activists that gathered for the forum, which was sponsored by a coalition of groups representing people of color.
Warren 's in-depth discussion of predatory lending practices by major U.S. banks and its effects on the black middle class provided a stark contrast to Brown's campaign messaging, which has largely centered around Warren's claims of Native American heritage and his allegation that she played it to her advantage in securing jobs.
With Brown out of play, the forum remained focused on Warren's calls for greater regulation of the financial industry and greater protections for working families.
Tufts University Professor James Jennings posed the questions, beginning by asking Warren about her focus on the middle class.
"America's middle class has really been the defining economic engine of the 20th century," she said. "It's starting to crack."
Warren went on to describe the disparate impact the financial crisis has had on black families, leading to disproportionately high rates of job loss and foreclosures.
"The financial crisis — particularly mortgages — has devastated the black middle class," she said, explaining that housing constitutes the majority of the wealth in the black community.
"It hit everyone hard, but it hit communities of color much harder. There will be consequences that will be felt for a generation. It's a terrible thing."
Warren told the audience she would work with the Obama administration to protect the interests of middle class and working class people in the Massachusetts economy.
"What's at stake in this election is whether Boston will have a federal partner," she said. "Mayor Menino does a great job. Governor Patrick does a great job. They need a strong partner in Washington."
For Warren, Boston's black community represents perhaps one of her strongest voting constituencies, and one of Brown's worst. In the 2010 special election where Brown won the U.S. Senate seat, he lost Roxbury's Ward 12, gaining just two percent of the vote. And in Dorchester's Ward 14 — the geographical center of the city's black community — Brown barely garnered one percent of the vote.
While Brown has visited parts of Dorchester in the last year — including a photo op shooting hoops at a Boys and Girls Club and an obligatory visit to the Eire Pub — he's made few if any campaign stops the city's black community.
Brown's weak showing in 2010 in the black community, despite a near-absence of campaign activity from his Democratic opponent, underscores the historic Democratic bent among the nation's blacks.
This year, with President Obama and former Mass. Governor Mitt Romney locked in a close race for the presidency, black voters in Massachusetts may be even more primed to turn out in this year's Nov. 6 Election Day.