In the Mix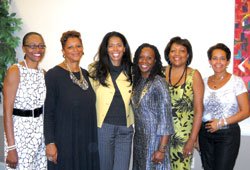 Lehane for Literacy…
It was an evening affair with "Mystic River" author Dennis Lehane in support of Action for Boston Community Development's Joseph M. Tierney Learning Center. The Boston author not only attended the fundraising reception, but also read from his soon-to-be released novel "Live By Night" and signed copies of the book at BC High School.
The 100-plus people in attendance were excited to have the down-to-earth author to themselves. Actress Maura Tierney of "ER" fame was also there to support the center named after her father, Joseph M. Tierney, a former resident of the Old Colony Housing Development and former City Councilor.
An Afternoon of Scandal…
The Boston Links Chapter hosted a reception with Judy Smith, the inspiration behind the hit TV show "Scandal" at Suffolk Law School, to promote her new book "Good Self, Bad Self."
One of the first comments by the attorney/author was "No, I did not have an affair with the president," which made the mostly female audience laugh. She then went on to discuss her experience as one of the country's top crisis communications managers, her years working at the White House and let's not forget that little TV show starring Kerry Washington. Smith was warm in her conversation to the room full of attorneys and budding attorneys from Suffolk. Asked why she's still doing this work, Smith said she fundamentally believes that "everybody deserves a second shot."    
R. Les in the House!
Ryan Leslie was in town at Showcase Live to promote his upcoming album "Les is More" and performed a couple of songs from the album as well as some older material.
R. Les was backed by a live band and heads were bobbing in the crowd to his beats and couples were swaying to the music. It was a good show with a solid performance and it was clear why the ladies came out to see him.  He definitely has got a lot of charm and charisma. Look out for his new album, which drops Oct. 22.
Coming Up…
Check out British import Joss Stone at House of Blues on Monday, Oct. 15.
On Thursday, Oct. 18, former NFL player Dorsey Levens screens his documentary "Bell Rung: An Alarming Portrait of Professional Football" at Blackman Auditorium at Northeastern University.  The free screening begins at 7 p.m. and is open to the public. A panel discussion will follow with Dorsey Levens and Dan Liebowitz from NU's Sports and Society Program.
On Saturday, Oct. 20, Nigerian singer/songwriter Nneka performs in The Red Room at Café 939 at 8 p.m.
Boyz II Men return to The Wilbur for one show on Sunday, Oct. 21.
Lizz Winstead, "The Daily Show" co-creator and political satirist, performs a recap of the 2012 presidential race in her one-woman show "Bang the Dumb Slowly: The Long Road to the White House" Sunday, Oct. 28 at 8:30 p.m. at Johnny D's in Somerville.
The Citi Performing Arts Center presents John Legend on Tuesday, Oct. 30.
On Friday, Nov. 2nd, RandB and jazz legend Natalie Cole headlines ABCD's 50th Anniversary Gala at the Boston Marriott Copley Place hotel.

If you would like me to cover or write about your event, email me at inthemixwithcolette@gmail.com.