Arts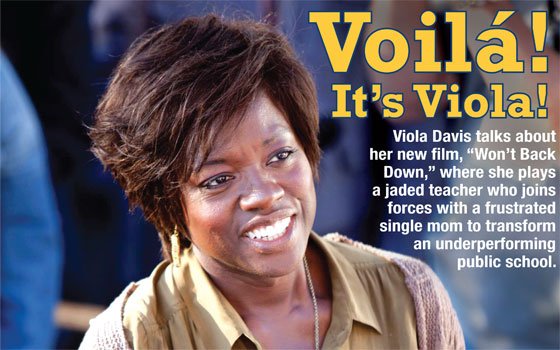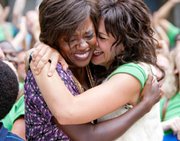 After earning a degree in theater from Rhode Island College in 1988, she went on to do post-graduate work at the prestigious Juilliard School prior to embarking on a critically-acclaimed professional career.
Davis made a memorable mark on Broadway, winning Tonys for stellar performances as Tonya in "King Hedley II" and as Rose in the revival of "Fences."
She's also been nominated twice for an Academy Award for her portrayal of stoic Aibileen in "The Help" and for her interpretation of Mrs. Miller in "Doubt."
Davis' other noteworthy screen credits include impressive outings in "Traffic," "Nights in Rodanthe,"  "Extremely Loud and Incredibly Close," "Eat Pray Love," "Madea Goes to Jail" and "Antwone Fisher."
Her upcoming films include "Enders Game" with Harrison Ford, "Beautiful Creatures" with Emma Thompson and "The Disappearance of Eleanor Rigby" with Jessica Chastain.
What interested you in "Won't Back Down"?
My interests in the film were two-fold: the backdrop of education and also the human story within it about a woman who, when she was in her 20s, had all these high ideals and hopes of taking the world by storm as a great teacher and also as a great mother. But all of that was just blown to bits, and we find her at a low point where she's totally disillusioned.
For me, the movie is about her story of coming back to life again. And that journey is a very human one. It intrigued me, and I saw it as a very interesting challenge as an actor.  
What was it like working with such a top-flight cast? You had an Academy Award-winner Holly Hunter, as well fellow Oscar nominees Maggie Gyllenhaal and Rosie Perez.
You forgot another Oscar nominee Marianne Jean-Baptiste. It was fabulous! To me, it's always a luxury to be able to work with the best of the best because they make it easier for you to do what you do. It's harder to work with people who are not as dedicated to their craft. It also leaves you a better actor when you finish the project, since you always feel like you've learned something. And it's refreshing to spend time with actors who are so vocal, so articulate.   
Did you have any problems with any of your lines in the script, and how did you handle such a controversy?
Yes, I did have a problem with a few things, which is good for an actor. The sentiment that I had a little trouble with was the idea that if you could change a school, you could change a community.
I couldn't wrap my mind around that. I just feel that those two trains need to be leaving the station at the same time. I think that that's a heck of a responsibility to expect schools and teachers to change these challenged communities.
Many of them are experiencing growth deficits or are going bankrupt, and are infected with gang violence with as many as 85 percent of the people living below the poverty line. I knew this was going to be a hotbed issue, but I didn't realize how volatile it was going to become once the movie was released. Nevertheless, I welcome this spirited discourse.