Taking it to the streets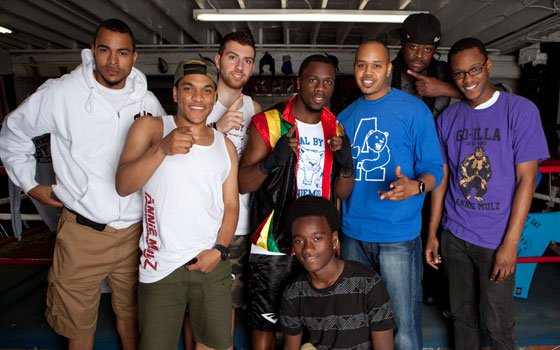 Newbury Street is not the everyday place for a clothing startup, but don't say 'no' to Annie Mulz
When Matthew Osofisan sat next to Michael Toney as a freshman in his first class at Northeastern University (NU), he did not expect to share more than notes with his classmate.
But soon, the two had a vision of crafting Annie Mulz, their own clothing line, with a goal of building it into a lifestyle brand.
Based on [Charles Darwin's] concept of the "Animal in Man," Osofisan and Toney say that "it doesn't matter where you're from, where you live, what job you have, or what car you drive. We all abide by the same rules."
After literally taking it to the streets — the pair sold the first Annie Mulz designs at a table they set up on Newbury Street — they created enough buzz to let them know they were on the right track.
But the "old college try" is not enough to build an empire. The duo entered NU's Idea contest for student run businesses and were awarded the inaugural prize, a team of advisors and $10,000 in start up cash.
They used that capital to open the Concrete Jungle pop-up shop on Newbury Street. The Concrete Jungle soon gained a reputation as one of the coolest places on the strip with its late hours and in-store live performances with cutting edge artists. It also demonstrated that the Annie Mulz crew knew how to turn their idea into a successful business.
Now back on Newbury with their NU degrees in tow, the 24-year-old graduates return with another pop-up shop — Green Street Jungle, a collaboration with mobile clothing retailers Green Street Vault. The companies had already formed an alliance when they collaborated on a limited-run line Bay Colony Explorers.
With Annie Mulz being Green Street Vault's top-selling brand the two companies working together made perfect sense.
This time, Team Annie Mulz is back with a renewed focus and a goal to open up venture capitalists' wallets closed by a tough economy. Plans for a permanent retail space, their membership-only online store (www.AnnieMulz.com) and adding more team members to continue to grow the Annie Mulz brand are in the making.
Osofisan spoke with the Banner about the company's start and how a team of young guys are making their successful second run on one of Boston's most prestigious shopping destinations.
Tell us about your start.
We started Annie Mulz in January 2009. I came back from Chicago working at G.E., and I realized that it wasn't for me. I was a kid who would take everything from my house and go have a yard sale [laughs]. I always had an entrepreneurial spirit.
Mike was on co-op, as well, working for a record company. He already had the idea for Annie Mulz, but it was very rough. He said, I have this idea, here's the name.' 'I was like, 'This is great.' My mind starts running through different marketing ideas and we sat down in my apartment junior year and said, 'Let's do this.'