Arts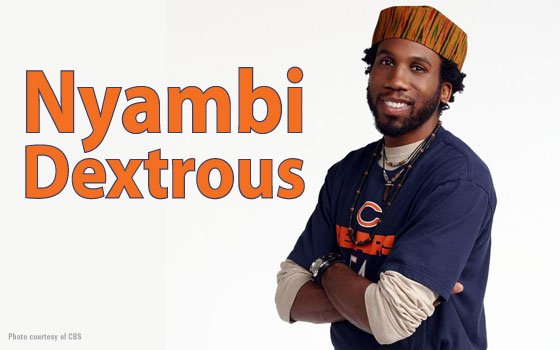 Versatile Shakespearean actor and television comedy sensation Nyambi Nyambi stars on the television sitcom "Mike and Molly" airing on CBS. The show's title characters are played by Billy Gardell and Emmy Award-winner Melissa McCarthy. Gardell and McCarty play a working class couple from Chicago who met at an Overeaters Anonymous meeting.
Nyambi handles the hilarious breakout role of  Samuel, a Senegalese waiter working in a diner to whom dieting is a foreign concept. Earlier in his career, he shared the stage with Hollywood legend Al Pacino in productions of "The Merchant of Venice" and "The Winter's Tale" for the New York City Public Theater's Shakespeare in the Park.
As a member of both the LAByrinth Theater Company and the Classical Theater of Harlem, Nyambi's other theater credits include the Broadway revival of August Wilson's "Joe Turner's Come and Gone," "The Tempest," opposite Mandy Patinkin for the Classic Stage Company, and "Coming Home."
The Oklahoma native was born on April 26, 1979, to Nigerian parents but was raised in Houston and Dallas, Texas, as well as in Fairfax, Virginia. He attended Bucknell University on a basketball scholarship, and subsequently earned his MFA from the Graduate Acting Program at NYU (New York University).
A self-proclaimed basketball junky, Nyambi collects vintage basketball jerseys and plays for charity alongside stars like Jamie Foxx, Dean Cain, Joel McHale, Adam Sandler and Zac Efron in Hollywood's Entertainment League Productions. In addition, he enjoys donating his free time to coaching at teen camps.
A true film buff, Nyambi watched 365 movies in 365 days last year. Here, he talks about life and about what it's like to be on "Mike and Molly."
What interested you in "Mike and Molly?"
What interested me was the hilarious script and the idea of playing a West African character that was the smartest guy in the room … and I was broke.
Tell me a little about the show.
"Mike and Molly" is a show about two people in love and the work it takes to keep it that way.
What would you say is the show's message?
The message of the show is that love is out there and, if you want the baggage it comes with, it's yours.
How would you describe your character, Samuel?
Samuel is a dry-humored, highly-educated immigrant from Senegal, who speaks five languages, studies English literature at The University of Illinois and is a waiter at Abe's Hot Beef. Nothing gets past him. He's family.
How did you prepare to play a Senegalese waiter?
 I ate in a lot of diners and spent some time in Senegal.
"Mike and Molly" has one of the most racially diverse casts on prime-time network TV. Who is responsible for that diversity?
 Mark Roberts, the creator of our show, and the writers have done an incredible job of creating and writing for these amazing actors.
How has a series about two overweight people managed to become a hit in our weight-conscious society where most TV and movie stars are thin?