Arts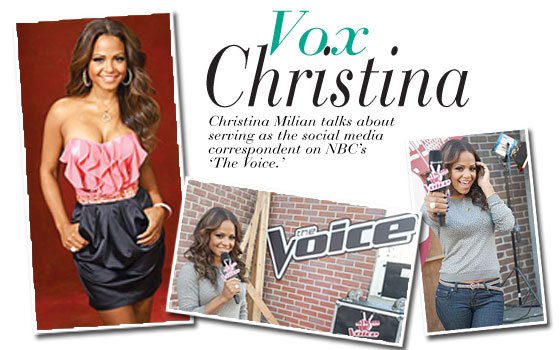 (Mitchell Haaseth/NBC photo)(Lewis Jacobs/NBC photos)
Born in New Jersey on Sept. 26, 1981, but raised in Waldorf, Md., Christina Milian is a versatile talent whose resumé includes film, television, theater and music. She recently appeared in the television movie "The Christmas Cupid," on "CSI" and enjoyed a recurring role as the voice of Esther on "Family Guy."
She also starred in the last installment of the popular "Bring It On" franchise, entitled "Bring It On: Fight to the Finish." Prior to that, Milian's feature-film credits include "Pulse," "Be Cool," "Man of the House," "Love Don't Cost a Thing," "Can't Buy Me Love" and "Torque."
Christina started her showbiz career at a young age, when she became a junior journalist on the Disney Channel's "Movie Surfers." Before igniting her musical journey, she appeared on such TV shows as "Clueless," "Sister, Sister," "Smart Guy," "Charmed," "The Steve Harvey Show" and as a recurring character on "Get Real."
Milian's "It's About Time," released on Island/Def Jam Recordings, featured the mega-hit "Dip It Low" which combined a unique blend of urban, Latin and pop sound. Her self-titled debut, "Christina Milian," produced the hit "AM to PM."
She moved to California at the  age of 13 and was selected to sing the hook on Ja Rule's No. 1 hit single, "Between Me and You." The enormous success of the song introduced her to the mainstream music world and gave her commercial success.
Milian subsequently co-wrote the Jennifer Lopez hit "Play" and she was one of the co-writers of Justin Bieber's smash "Baby."
What interested you in being the social media correspondent on NBC's "The Voice?"
Well, I thought it was an interesting concept when they approached me with the idea, because I've always been heavily engaged with my fans on the internet from day one. That connection is one of the reasons why I've been able to enjoy such longevity in my career.
I guess NBC must have noticed that one of my staples is social media. So, when they approached me for "The Voice," I thought, "Why not be the first one to do it?"
When do you work in that capacity? Just during the hours when the show is on the air?
No, all the time. I tweet day and night about the show, and the entire time while it's airing. So, the fans are completely engaged while it's on. But I constantly get messages asking questions about the stars of "The Voice." I also posted a ton of interviews I've done with all the artists, the coaches and the advisers on the show. So, I do my job 24/7.
What do you think of the show's blind audition format?
I love it! That's what make our show unique and gives it so much more integrity. After all, the show is called, "The Voice." It's about vocals, and you have to stand out to get the attention of these four, Grammy-winning superstars who have an amazing ear and know what they're talking about.