Melnea Cass Blvd. redesign plan inches forward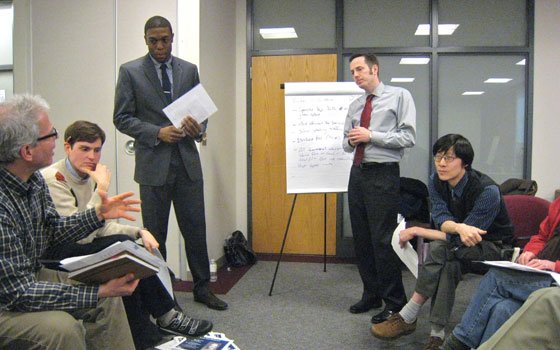 The Boston Transportation Department (BTD) held a public meeting last week on plans to redesign Melnea Cass Boulevard, the fast-paced thoroughfare in Lower Roxbury that will soon see new retail and residential development at some of its key intersections.
About 40 people attended the meeting, the third in a series of presentations and brainstorming sessions on how to make the boulevard more pedestrian- and bicycle-friendly while still accommodating heavy automobile, truck and public transit traffic. State Reps. Gloria Fox and Byron Rushing were in attendance, as well as District 7 City Councilor Tito Jackson and representatives from the offices of state Sen. Sonia Chang-Diaz and City Councilor-at-Large Felix Arroyo.
The meeting was one step in a continuing process of creating a vision and plan for an improved boulevard, organizers said, building on earlier meetings held in October and December.
 "We started with a view from 30,000 feet up. Now we're a little closer in. We're going to keep getting closer until we have drawings we can look at in inches," said Patrick Hoey, BTD senior transportation planner and project manager for the Melnea Cass redesign. A tentative timeline indicated a goal of "gaining consensus" on a design by summer 2012.Hoey gave a rough estimate that the project could be complete in about two years.
The BTD, as lead agency on the project, aims to incorporate the city's new "Complete Streets" strategy as well as the goals of the Roxbury Strategic Master Plan (RSMP) and the state-devised Urban Ring project.
The Complete Streets approach focuses on the needs of pedestrians, bicyclists and transit users as well as drivers, and on environmentally sustainable design.
The RSMP emphasizes economic development for Roxbury and strong community involvement in land use planning. Among the RSMP's stated goals are to make Melnea Cass Boulevard "more inviting for pedestrians in order to help reduce the perception of a divide between Upper and Lower Roxbury."
The planned Urban Ring is a roughly circular transit corridor linking Boston and neighboring cities and connecting the "spokes" of existing MBTA routes. Melnea Cass Boulevard would be one part of this corridor.
The Ring plan adds Bus Rapid Transit (BRT), a fast bus system with high-capacity vehicles, widely spaced stops and dedicated bus lanes. The full Urban Ring implementation is now on hold due to Massachusetts Department of Transportation (MassDOT) and MBTA funding shortages, but the Melnea Cass redesign plans will include dedicated bus lanes that can accommodate existing transit and future BRT service.
At a December meeting, community members devised their own wish lists in small-group breakout sessions, filling flip charts with priorities for an improved boulevard. Several themes emerged: pedestrian safety and comfort, clean and well-maintained properties, calmer/slower traffic, preservation and addition of trees, better lighting, and integration of the street and its commercial areas with Dudley Square.
At the March 15 meeting, members of the project's outside consultant team recapped those themes and discussed how they might be implemented in various parts of the long boulevard.