Bill raises mandatory school attendance age to 18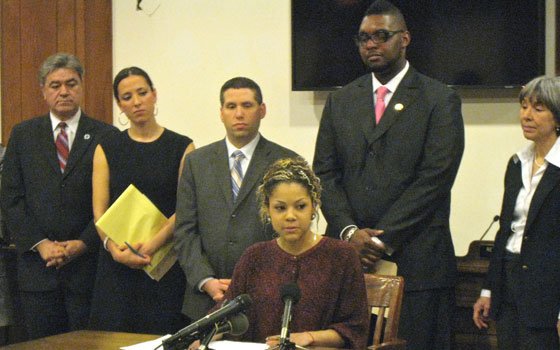 Preventive action with monitoring and support

The Massachusetts legislature's Joint Committee on Education voted favorably last week on a bill to reduce the school dropout rate in Massachusetts with a variety of prevention and recovery measures.
Senate Bill 185, "An Act Relative to Dropout Prevention and Recovery," raises the mandatory school attendance age from 16 to 18. In addition, it includes measures to identify dropout risk early, prevent students from quitting school and bring them back into the system quickly if they do drop out.
Sen. Sonia Chang-Diaz (D-Boston), the senate chair of the Education Committee and lead sponsor of the bill, held a press conference at the State House following last week's vote.
"Massachusetts is the birthplace of public education," she said. "We know how to do things right. But we are not reaching every student. The best way to keep students on track is a comprehensive plan to get at the root causes of dropout."
Each year, some 8,000 Massachusetts high school students drop out, according to reports from the state's Department of Elementary and Secondary Education (DESE). While the annual dropout rate has actually declined over the past several years, from 3.8 percent in 2006-07 to 2.7 percent in 2010-11, Hispanic and black students continue to top the chart for dropout rates among individual racial and ethnic categories.
In Boston, the annual dropout number has been around 1,200 in recent years, down from 1,800 in 2004, said Kathy Hamilton, youth transitions director at the Boston Private Industry Council (PIC).  
The PIC's Youth Transitions Task Force was convened in 2004 by Mayor Thomas Menino to study and remediate the city's dropout rate. Hamilton attributed the decrease in dropouts to improved outreach and early intervention, better use of data, provision of alternative pathways to a diploma and a collaborative approach among schools and agencies.
Under the state bill, a new network of graduation coaches would connect at-risk students in grades 7-12 with academic support and community resources, and assist recent dropouts in returning to school. Alternative education services would be provided to expelled or suspended students, and schools would hold workshops each year for parents on effective strategies for engaging their at-risk children.
Araba Adoboe, 17, from Amherst, spoke about how she dropped out of high school after becoming ill with mononucleosis and falling behind in her sophomore year.
"If Senate Bill 185 had been in place then, things would have been different," Adoboe said. "If I had a graduation coach, maybe I could have received tutoring, or changed schools. Maybe someone would have returned our phone calls."
The bill also requires districts to report data on students in grades K-12 as part of the Early Warning Indicator System currently under development by the state's Department of Elementary and Secondary Education (DESE).
Dr. Andrew Sum, professor of economics and director of the Center for Labor Market Studies at Northeastern University, provided stark statistics on the financial toll high school dropout takes on both the student and on the economy.