Arts
3/14/2012, 9:25 a.m.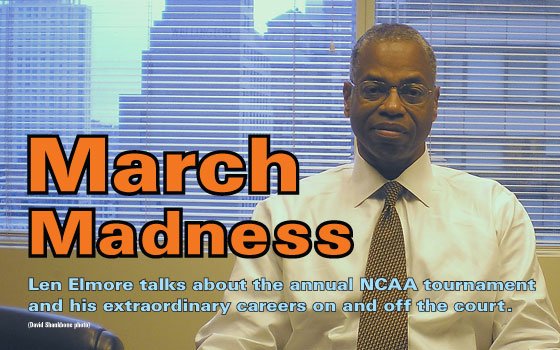 A man long associated with March Madness, Len Elmore is now appearing on CBS for his 12th season as an analyst during the network's NCAA Men's Basketball Championship coverage. In addition, he has served as a basketball analyst for ESPN for the past 13 consecutive years, calling ACC and Big East games, including the Big East Tournament.
Elmore is an eight-year NBA veteran, having played with the Indiana Pacers, Kansas City Kings, Milwaukee Bucks, New Jersey Nets and New York Knicks. He spent two seasons with the ABA's Indiana Pacers in 1975-76 before the franchise joined the NBA.
Elmore is a 1974 graduate of the University of Maryland, where he was a three-time All-ACC player as well as an All-American his senior year. In 2002, the 50th Anniversary of the ACC, he was chosen as one of the ACC's Top 50 Players of all time.
Elmore also earned a Juris Doctor from Harvard Law School in 1987 and began his law career as an assistant district attorney in Brooklyn, N.Y. He presently serves on The Knight Commission on Intercollegiate Athletics Reform, on the University of Maryland Foundation Board of Trustees, as well as on the Board of Directors of both 1800Flowers.com and Lee Enterprises, Inc. Plus, Len has served as president of the National Basketball Retired Players Association.
Born in the Big Apple on March 28, 1952, Elmore still resides there and was inducted into the New York City Basketball Hall of Fame in 2001. Here, he talks about March Madness and about his extraordinary careers on the court, behind the microphone, and as an attorney. 
With everyone filling out their March Madness brackets in office pools right now, let me start by asking who you think has what it takes to win the NCAA Tournament this year?
Boy, there's not just one team. Obviously, there are the favorites like Syracuse, and certainly Kentucky, a good young team. We could also look at a team like Duke, which has enjoyed a resurgence. After being up and down during the season, the Blue Devils finished strong enough to be considered for a No. 1 seed.
Then, there are those teams that people haven't really spoken about much, like Kansas, which has played very well, as has Missouri. And there are others with plenty of potential, such as Michigan State, which worked its way into a No. 1 seed.
Most people didn't have this level of expectation for them after they finished .500 in the Big Ten last year. But, The Spartans have really redeemed themselves with a lot of youth, although they also have a terrific veteran in Draymond Green.
Ohio State sort of has to overcome some of their issues, but they're very capable of going all the way in a six-game series. And North Carolina is definitely built to go the distance in the tournament. So, those are the teams I think we should be looking at, but in the end, I really believe that Syracuse and Kentucky are the two teams that have shown very few weaknesses.