The clock is ticking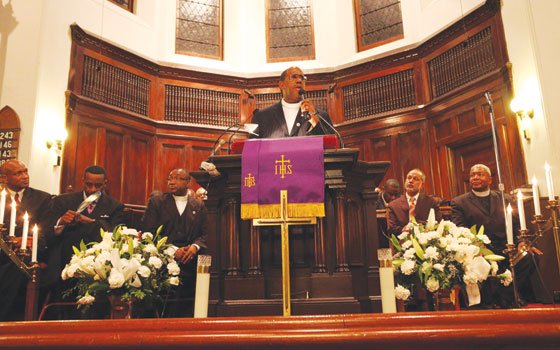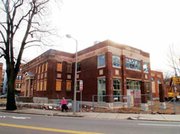 Charles Street AME church is in danger of losing its property after defaulting on more than $4 million in loans to the nation's leading black-owned bank


The increasingly nasty legal fight between two of Boston's leading black institutions took a public turn for the worse last week. About 300 people packed the pews of Charles Street African Methodist Episcopal church to show support for the church and demand justice from OneUnited Bank, which is moving ahead on its plans to foreclose on church property.
Amid cries of hallelujah and praises to God Almighty, speaker after speaker, mostly members of the black clergy, told the jubilant crowd that the fight was not over, that somehow, someway, Charles Street would be able to maintain its property and finish construction on its proposed Roxbury Renaissance Center.
Nearly 90 minutes had passed before Rev. Gregory G. Groover Sr. took to the podium. Though he appreciated the enthusiastic support, he immediately explained in a soft-spoken voice that on the advice of his attorneys, he had to be "careful" about the things he could say.
But Groover did manage to say that the church "had never missed a payment" and his public pleas asking the bank to refinance their loans was "not about dismissing responsibility."
"We are responsible for the loan," Groover said.
And therein lies the problem. Despite all the public statements and legal claims and counter claims, no one to date has disputed the central element of the dispute: the church owes the bank more than $4 million for a project still not finished.
To make matters worse, church lawyers have charged that OneUnited was "reckless" when it wrote the original loan and that they knew — or should have known — that the church would be unable to repay as originally agreed. Church lawyers further argue that OneUnited didn't lend the church enough to complete the project.
"The loan was improperly underwritten from the start," a church lawyer argued in court papers, "and was offered by OneUnited for the ulterior motive of expanding its retail business and gaining publicity, rather than as a loan made to prudent lending standards."
Despite these alleged flaws, Groover signed on the dotted line.
In this day and age of home foreclosures and fraudulent mortgage lending, it's easy to blame banks for a significant part of the near collapse of the American economy. It's also easy to expect some sort of return on the $800 billion that scores of banks received under the federal government's massive Troubled Asset Relief Program or TARP, of which OneUnited received $12 million.
OneUnited officials contend that they have done a significant volume of community lending.
"As the largest black-owned bank in the country," the bank said in a statement, "OneUnited has loaned over $500 million to families and charitable institutions, including churches, in low-to-moderate income communities in Boston, Los Angeles and Miami."
Though OneUnited has met all of its federal requirements for those TARP funds, bank critics charge that OneUnited should extend that bailout — in the name of justice and fairness — to Charles Street and its plan to build a 22,000-square-foot community center on church-owned land near Grove Hall featuring a grand ballroom, multi-purpose meeting space, conference rooms, prayer and meditation spaces and sound proof musical practice rooms.