Saul William's new album 'Volcanic Sunlight'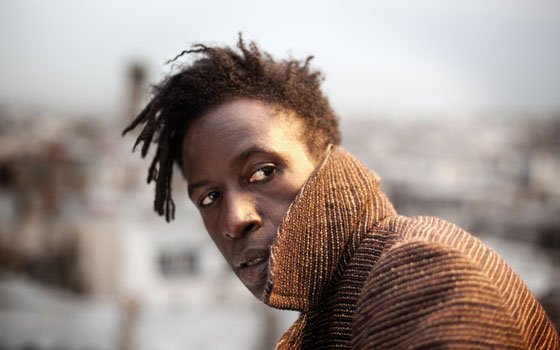 Poet and actor Saul Williams is a gifted storyteller who expertly mixes rhymes and rhythms on his newest album "Volcanic Sunlight."
The New York native rose through the ranks of poetry fame when he was crowned the Nuyorican Poets Café Grand Slam champion in 1996. Later he co-wrote and starred in the Cannes and Sundance award winning film "Slam."
The wordsmith was also featured in the documentaries "Slam Nation," "Underground Voices" and "I'll Make Me a World."
In the midst of his early poetry success, his daughter Saturn was born. Saturn's mother, painter Marcia Jones, also collaborated with him on the book "S/He" published in 1999.
Though he's an accomplished writer, most of us know the mocha-skinned Williams, as Lynn's (Persia White) celibate boyfriend Sivad from UPN's former hit TV show "Girlfriends." But, there's a lot more to Williams than his libido-challenged character on TV.
Williams was destined for creativity since the beginning. His mother was rushed from a James Brown concert to give birth to him — and so he claims that funk was in him from the start. He is a music lover who was always entrenched in his love for hip hop as a teenager. He found poetry there and never let go.
He received his B.A. in acting and philosophy from Morehouse College in Atlanta, and his masters in acting from New York University's (NYU) Tisch School of the Arts. He's authored several poetry collections including "The Seventh Octave" and "Said the Shotgun to the Head" and has delved into music.
Not one to stay in one creative lane, his albums include "The Inevitable Rise and Liberation of Niggy Tardust" and his latest "Volcanic Sunlight."
Now, the father of Saturn and son, Xuly, is editing a "literary mixtape" of work done by young poets for MTV and is touring to promote "Volcanic Sunlight." Recently, the Banner caught up with Williams the day before his show in Boston to talk about what he loves most.
How did you decide to pursue poetry as a career?
I didn't decide that. It kind of happened. I was into the theater and acting. I started writing poetry in grad school and going to poetry meetings in New York City. I got to do "Slam," I wrote and acted in it. In terms of speaking and doing poetry … I never knew this was possible.
What's the creative process like when writing a new piece? Maya Angelou once said that a piece worked her, she didn't work it. Do you identify with that?
Oh, definitely. Poems have worked me like that for years. I hear stanzas in the shower, while I'm walking, in the middle of the night. It's kind of like being pregnant. The creative process for me is, I listen.
I listen to follow streams of consciousness, for getting through the moment. One thing about me is I will always be exploiting it (laughs) … contextualizing it. I like making something waste free.
What's the difference between a slam poet and a regular poet?