Warren warmly welcomed at Roxbury celebration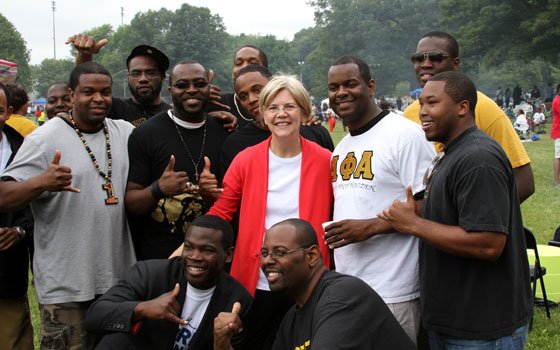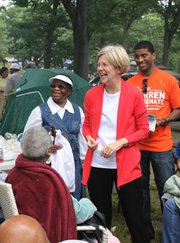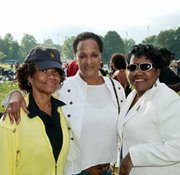 U.S. Senate Candidate Elizabeth Warren joined members of the Alpha Phi Alpha fraternity for a photo at the 16th Annual Roxbury Homecoming/Juneteenth celebration in Franklin Park. (Peter Van Delft photo)
 U.S. Senate candidate Elizabeth Warren shares a lighthearted moment with a member of the Johnson-Williams Family Reunion at the 16th Annual Roxbury Homecoming/Juneteenth celebration in Franklin Park. (Peter Van Delft photo)
 (L-R): Ruth Atkins-Suber, Helen Credle and State Rep. Gloria Fox strike a pose at the Juneteenth celebration in Franklin Park on Saturday. (Tony Irving phot
As thousands of people clustered together over barbecue smokers, among sets of lawn chairs and under canopies in Franklin Park during the 16th Annual Roxbury Homecoming and Juneteenth celebration, a powerful sense of community and family wafted through the park.
This past Saturday, groups of families, friends and community-based organizations gathered to observe Juneteenth — the June 19,1865 emancipation of the last remaining slaves held in the United States — and to celebrate the black family, and the many hues and cultural branches that define its tree.
 With familiar faces and strangers alike invited to share each other's food, drink and conversation, one particular first-time participant was greeted with the warmth and truth of family.
Walking among the crowd, Elizabeth Warren, Democratic candidate for U.S. Senate, shook hands, shared stories and spoke about the motivation behind her campaign and her affinity for the crowd listening to her words.
 "I love coming out to events like this one because it's fun," said Warren. "You get to meet people who are good people. This is heart to heart. I come out and I get lots of hugs and I hear lots of people who say 'you're not in this alone, kid. We're in this with you.' And that's what this campaign is about."
"This campaign has never been about me," she continued. "It's about all of us here today at this celebration and it's about people like us all around this Commonwealth and all around this country. They understand that President Obama is trying to build a future for us. I want to go to Washington to help him do that."
For many, it was a message that resonated.
 "I got to walk around the Roxbury Homecoming and Juneteenth celebration with her, and she was universally well received," said Tito Jackson, District 7's City Council representative. "Many people really gave her high marks and encouraging words as far as her campaign. It was great to have her there to celebrate and to connect with community. I think she is a candidate who stands for the little guy and for making sure that we have a government that reflects and gives voice to those without a voice. A vote for Elizabeth Warren is a vote for President Obama. She's a vote that gives him the help and backup that he needs to get his real agenda across."