City council hears minority contractors' business problems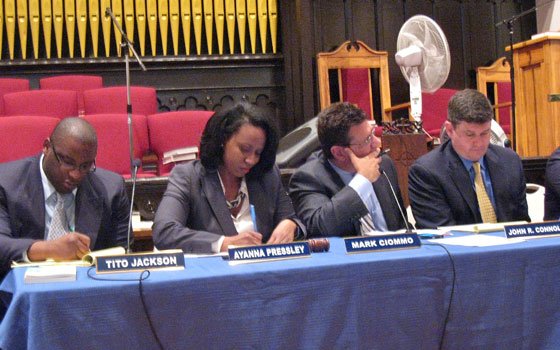 Joint hearing with GBIO focuses on bidding, payment system
The Boston City Council Committee on Ways and Means joined forces with Greater Boston Interfaith Organization (GBIO) to hold a public hearing in Roxbury on ways to improve the bidding and payment process for city-funded construction contracts.
Some 250 small business owners, construction workers and community members filled the pews at Roxbury Presbyterian Church for the June 5 hearing, sponsored by City Councilors-at-Large Ayanna Pressley and John Connolly and hosted by GBIO.
The City Council was represented by Pressley and Connolly, Tito Jackson (D7), Felix Arroyo (at-large), Charles Yancey (D4) and Mark Ciommo (D9), chair of the Ways and Means Committee.
GBIO was founded in 1996 by a group of clergy and community leaders to bring communities together across religious and neighborhood lines to work for social justice. Its representatives have testified at the state level as well about minority access to construction jobs.
In a pre-hearing presentation, Dan Cruz of Cruz Development Corporation, and Arnold Johnson of Crosswinds Enterprises outlined the mission GBIO has been formulating with contractors from the community.
"What is it we are trying to accomplish? We are trying to close the 'GAP,' " Cruz said.
The acronym stands for Goals, Accountability and Prompt pay, he explained.
"Our goal is to increase the percentage of small and local businesses that work on construction projects, including contractors and professional services," he said. "Right now, the city does not have any goals whatsoever for dollars spent on small and local businesses and minority or women businesses—and that's something we need to change."
For accountability, he said, "We want every organization that does business in this community to have to report on the number of dollars they spent with small and minority and women owned businesses, so we can see exactly what's going on the community."
As for prompt payment, Johnson had only to ask the contractors in the room to name their biggest challenge. "Cash flow!" was the immediate answer.
In the hearing, testimony came from business owners and professionals conveying their frustration at the lack of minority access to local projects and lack of timely payments when they do land contracts.
Michael Washington, a local independent architect since 1977, recalled the ideal of equal opportunity from the era of Kennedy, Johnson and Martin Luther King Jr., when skill, hard work and dedication were bolstered by both ideals and policies. Policies put in place then have been dismantled, he said, leaving little in the way of goals and accountability for equitable access. He also noted that small local firms often don't hear about local projects until it's too late.
"One of the most damning things," he said, "is when an architect from another city calls and asks for my involvement on a project that's right around the corner from me."
Shelley Webster, owner of Centaur Construction Services, spoke of times she nearly had to lay off workers even with a good contract coming up because of late payments from previous contracts. Delayed payment, she testified, hurts a small business's bank and credit relationships and makes it harder to become bonded, an important factor in landing larger contracts.