Arts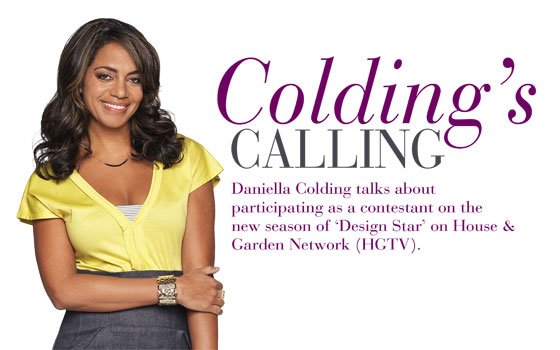 Danielle Colding, 36, is an interior designer with her own residential and commercial design firm in New York City. A former professional modern dancer, she also has a bachelor's degree in anthropology from Stanford University as well as an associate's degree in interior design from the Fashion Institute of Design and Merchandise on her resumé.  
A self-described problem-solver, Danielle uses her open, friendly and quirky personality to connect with her clients. She characterizes her design style as global chic, classic modern and edited traditional.
What interested you in appearing on "Design Star?"
My friends convinced me to go, thinking I'd have a good chance. To tell you the truth, I wasn't so sure. I went to the open call just to see what happened, and it just snowballed from there. The next step became the next step and I found myself on the show.
How has the competition surprised you?
The competition surprised me in that it was truly a supportive environment. I was skeptical about doing a competition show because I'm not into that kind of drama.
But this experience was the opposite. Sure we had our moments, but for the most part I made friends for life and we supported each other every step of the way. We felt like we were experiencing something very special together.
Has your life changed since you've become a celebrity?
A celebrity? I'm not there yet. My life has not changed tremendously other than I have a sense of confidence in my work that only this experience of making design decisions in minutes and living with them can give you.
Do you ever want your anonymity back?
That's something I still wrestle with. I have just started being recognized on the streets of New York, and it's a trip. So far, though, it's been a lot of fun.
You studied anthropology at Stanford. So why did you become a professional dancer after graduating?
I started dancing at the age of 6. So, it was something that was always there on the side. My mother pushed me to go an academic route but was cool about me studying something that I loved without the pressure of doing something that would land me a career.
Cultural anthropology and my minor in African and African-American studies were simply areas of study I was drawn to. Throughout college, I danced with a choreographer that I really loved and respected and who started a company using several dancers from Stanford.
I would spend weekends in San Francisco and Oakland, rehearsing and performing. When I graduated he had a spot for me in his company, so I went for it. It was a dream come true and an incredible creative experience.
How did you go from dancing to interior decorating?
My years as a dancer in San Francisco were extremely taxing. I held several jobs to live there as a dancer. I was a first grade teacher for two years, taught dance in public schools, waited tables, was a Pilates instructor and, of course, rehearsed and performed.