Community Event with Hall of Fame New England Patriot Andre Tippett
6/6/2012, 8:42 a.m.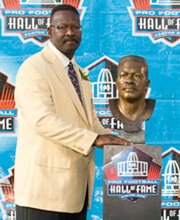 With double-digit growth in the number of patient visits each year over the last three years, Whittier Street Health Center is quickly expanding to meet the health care needs of the community. Contributing to this growth is targeted outreach to populations that have historically lacked access to health care. One such population is men. Data suggest that, even with insurance, men access needed preventative health care at much lower rates than women, especially African American and Latino men.
The extensive outreach efforts of Whittier Street Health Center's Men's Health Department has resulted in an adult patient population that is 44% men — one of the largest percentages of men in an urban community health center setting. Yet, with perpetuating significant disparities in health for men in our community, much more needs to be done.
To bring awareness to these statistics, Whittier has annually held a Men's Health summit providing health education and free screenings to the community. This year's Men's Health Summit theme is "Take Charge: Building Healthier Bodies, Minds, and Spirits." The summit is scheduled for Saturday, June 30, 2012, at Whittier Street Health Center and is free and open to the public. The goal of the summit is to raise awareness among men that physical, mental and spiritual health are interconnected. So, by taking charge of their own health, they can build a stronger family and community.   The keynote address will be delivered by Andre Tippet, Hall of Fame linebacker from the New England Patriots. "Andre Tippett is the perfect example of how strong men make stronger communities," said Whittier Street President and CEO Frederica Williams. "For many years we could marvel at his ability as a player each Sunday during football season. But since his retirement, he continues to lead by example off the field and embrace his roles as father, coach, executive and man of faith."
The summit will bring together more than  300 men and their families to increase access, knowledge and resources needed to better their wellness. By bringing services into the community, the summit allows men and their families access to quality health care, while focusing on positive health behaviors to improve emotional and physical health.  Since its inception in 2000, the summit has generated an incredible turnout, and men leave truly captivated and energized to make healthier life choices.
In addition to our new building and expanding staff to meet the needs of men, Whittier has also expanded services. These new services include Whittier and Dana-Farber Cancer Institute partnering to create a Community Cancer Clinic at 1290 Tremont St. to address significant disparities in cancer outcomes and care within the Boston community. According to the Boston Public Health Commission's 2011 Health of Boston report, in 2008, black men in Boston were 3.3 times more likely to die from prostate cancer than white men. The Community Cancer Clinic will allow for expanded services in the community to confront such disparities.
Integral to our collective efforts to improve the health of men in the community is community involvement. While annual physicals are an important component of preventative care, more important is what we do the other 364 days out of the year. We need to work together to not only improve our own health behaviors, but also help each other lead healthier lives. Studies show that our social networks have a strong influence on our healthy behaviors. To truly improve health, including the health of men, it will take a collective effort from all of us and a renewed dedication to our own health and that of our friends, family and community.

To take your first step towards improved health, make an appointment at Whittier Street Health Center today by calling (617) 427-1000.