Paulette Chisholm
7/25/2012, 8:17 a.m.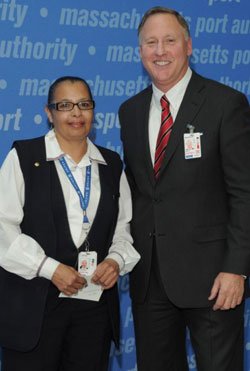 Paulette Chisholm

The Massachusetts Port Authority (Massport) recently presented Roxbury resident, Paulette Chisholm, with its "Logan Stars" award.
The honor was created by Massport's Aviation Department in 2008 to give the nearly 17,000 individuals who work at Logan Airport the opportunity to recognize their peers for superior individual achievement and the highest level of customer service.
Chisholm joined United Airlines in 1996 and currently works as a service director for the airline. Massport recognized her for helping an elderly couple who became distressed when they learned of a family emergency while at the airport.
She approached the couple and learned the two were on their way to a weekend getaway in Tampa when they received news requiring them to fly to North Carolina to be with their daughter.
Unsure of how to reroute their travels, the couple sat immobile and dazed. Chisholm immediately helped them change their tickets, and escorted them to their new departure gate. She called customer service personnel along the route to help minimize the stress during the couple's journey. Afterward, she arranged for ground transportation once the flight landed in North Carolina.
Chisholm's professional courtesy and personal empathy helped alleviate the travelers' anguish.