in the Mix
7/25/2012, 9:23 a.m.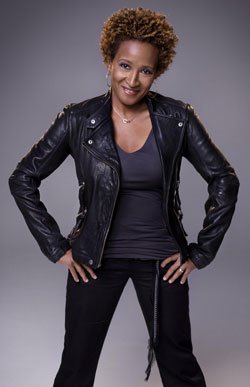 One-on-one with Wanda Sykes
One of the most recognizable voices in comedy, television and film today, Wanda Sykes has been called "one of the funniest stand-up comics" by her peers, and ranks among Entertainment Weekly's 25 Funniest People in America.
The Renaissance woman has hosted her own late-night talk show on FOX called "The Wanda Sykes Show" and appeared on the TV shows "The New Adventures of Old Christine" and "Curb Your Enthusiasm."
In 2006, she starred in her first HBO comedy special, "Wanda Sykes: Sick and Tired," and was nominated for a 2007 Primetime Emmy for Outstanding Variety, Music or Comedy Special.
No stranger to animation, the Virginia native has also voiced characters in the films "Over the Hedge" and "The Barnyard." Sykes' latest project finds her voicing the new character "Granny" in 20th Century Fox's "Ice Age: Continental Drift."
Sykes took the time to briefly chat about stand-up comedy and raising a family.
You've acted on TV and in film, and authored a book. You're a spokesperson for Gain and still do stand-up. How do you find the time to do all of this and raise a family?
It all starts with having to feed the family. I love what I do. I want to make people laugh. I started off as a stand-up and that's who I am. My wife and I are good at balancing out our schedules.
What is the difference between doing stand-up comedy, films or TV? What's the draw?
That's where it all started first for me. That's where I feel secure. It's my first love. I love the immediate reaction from the audience. I love walking out on stage and it's all about me.
In the last few years, you've dealt with some major life changes from having breast cancer to getting married and having children. Has your stand-up changed in any way?
Definitely. I'm still me and I'm the same. And it's the same point of view. I'm still open and honest. I do talk more about my kids and about being a mom. People who had kids, my friends, never told me the real deal.
Once you get it into it, it's a game changer. It changes your entire world. The kids are great. Or that's what I'm supposed to say [chuckles]. It has changed my act. Before, I was into politics and what was going on in the world. I don't have time to read and be into political shows. Now, I'm like, 'what is this Syria thing you're talking about?'
Will we see any politics in your show in Boston?
 You'll see a little bit of it. I just want to be entertained right now. I want to laugh and make people laugh.
Has Twitter helped to expose you to new fans?
I like being able to react and respond to something that just happened. I've come in contact with a lot of fans and having that connection.
Is there any subject matter that is off limits in your stand-up?