Black theater talent wins multiple awards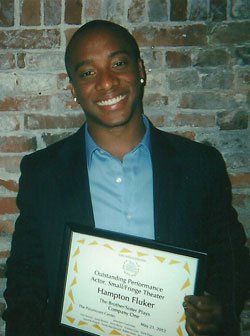 Porgy sings "I Got Plenty O Nuttin'" in the famous Gershwin opera, but black talent won plenty at this year's recent local theater and Tony Awards.
"Porgy and Bess" won both a Norton Best Musical and a Broadway Best Revival of a Musical award.
Audra McDonald, electrifying as Bess, was cited as best actress in a musical by the Independent Reviewers of New England (IRNE). She also won a Tony and a Norton.
McDonald's prize tied her with Angela Lansbury and Julie Harris as the only Broadway actresses ever to win five Tonys. Phillip Boykin, arrestingly villainous as Crown, did not win the featured actor in a musical Tony but did receive a Large-Stage Supporting Actor IRNE.
Theatergoers who missed the musical's world premiere at the American Repertory Theatre — directed by the company's artistic director, Diane Paulus — can still see "The Gershwin's Porgy and Bess" at Broadway's Richard Rodgers Theatre through September 30.
While "Porgy and Bess" was honored at several ceremonies, Huntington Theatre Company's area premiere of "Ruined" — a co-production with La Jolla Playhouse and Berkeley Repertory Theatre — took home the most prizes.
The Lynn Nottage play, set in the Democratic Republic of the Congo, focuses largely on the victimization of its black women. It garnered five Large Stage IRNE Awards, including recognition for three black performers: best play, best direction (Liesl Tommy); best actress (Tonye Patano); best supporting actress (Pascale Armand); and best supporting actor (Oberon K.A. Adjepong).
The Mid-Size Stage Best Play IRNE went to Company One's Boston Center for the Arts area premiere of "The Brother/Sister Plays." Tarell Alvin McCraney's insightful trilogy served notice that its African American author is a significant young voice in contemporary theater. Hampton Fluker, who exuberantly played a young conflicted man named Elegba in the first two plays, won both a Norton and an IRNE.
Another BCA winner was Hyacinth Tauriac, the Best Small Stage Child Performer for her work in the Zeitgeist Stage Company Boston premiere of "My Wonderful Day."
Playing young student Winnie in this sly Alan Ayckbourn comedy, Tauriac had the opportunity to speak in both French and English.
Another award-winning play, "Arabian Nights," will return to the Central Square Theatre this fall. This Nora Theatre-Underground Railway Theatre collaboration (with both companies in residence there) features three local black actors: Ramona Lisa Alexander, Vincent Siders (who also directs) and Elbert Joseph. They shared the production's small stage best ensemble IRNE with other accomplished area performers.
"Arabian Nights" also won a variety of other IRNE honors: Best Mid-Size Play Direction (Daniel Gidron, a tie with the late David Wheeler, for Company One's "The Book of Grace"); costume design (Leslie Held); and puppetry (David Fichter and Will Cabell). "Arabian Nights" returns to the Central Square Theatre Nov. 23-Dec. 30.
Two other first-rate actors — Jason Bowen and Omar Robinson — played roles in another award-winning play. Bowen played Duke Orsino and Robinson portrayed Antonio and Sea Captain in the Actors' Shakespeare Project's revival of "Twelfth Night," which took home best small stage production Norton honors.
For complete respective lists of the 2012 IRNE and Norton Awards, go to stagesource.org. For the 2012 Tony Awards, check out tonyawards.com.